Tickets Available For Bill Grippo Retirement 'Roast,' Fundraiser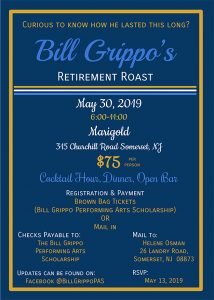 Tickets are still available for the May 30 "roast" of MacAfee Road Elementary School principal Bill Grippo, who is retiring at the end of this school year after working for more than 40 years in township schools.
In addition to being an educator, Grippo is a former Township Councilman and a prolific fundraiser, having helped rebuild the Villagers Theatre and most recently the performance gazebo at the Municipal Complex. He also for years has been the fundraiser for the township's annual July 4 fireworks celebration.
Some highlights of Grippo's career are:
Worked for Franklin Township School District over 40 years
Started as Supervisor of Adult education
Took many leadership positions in state associations for adult education
Became Vice Principal at Hillcrest School
Then became Principal at Conerly Road School
SGS was created as an intermediate school and Superintendent William Westfield asked him to be the first Principal for the school.
Started SGS Players with Terri Seggio and Eva Nagy to rebuild the entire SGS theater to an amazing performing arts venue in town.
6 years later Superintendent moved Bill for MacAfee Rod School as Principal where he has been for 9 years.
Slept on roof, duct taped to the wall in the gym and had many pies thrown at him for his students to promote reading
Part of the Dream Team that helped pass an $85 million referendum for the school district
Hired as the Referendum Transition Coordinator
Has served in many volunteer positions over the years all for the benefit of Franklin Township most recently, the gazebo project at Franklin Municipal Building.
The evening is also a fundraiser for the Bill Grippo Performing Arts Scholarship. The fund will award scholarships for the next 10 years to graduating seniors who are pursuing studies in performing arts.
The event will be held from 6-11 p.m. at the Marigold, 315 Churchill Road. Tickets are $75 each, and include a cocktail hour, dinner and an open bar.
Tickets are available through Brown Bag Tickets (Bill Grippo Performing Arts Scholarship) or by sending a check made out to The Bill Grippo Performing Arts Scholarship to Helene Osman, 26 Landry Rd., Somerset, NJ 08873, by May 13.
Your Thoughts
comments
Please Support Independent Journalism In Franklin Township!
No other media outlet covering Franklin Township brings you the depth of information presented by the Franklin Reporter & Advocate. Period. We are the only truly independent media serving the Eight Villages.
But we can only do that with your support. Please consider a yearly subscription to our online news site; at $37 a year, it's one of the best investments you can make in our community.
To subscribe, please click here.
Other News From The Eight Villages …