Somerset Patriots Unveil TD Bank Ballpark's 20th Anniversary Logo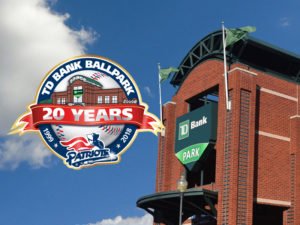 Bridgewater, NJ- The Somerset Patriots have unveiled a logo in celebration of TD Bank Ballpark's 20th Anniversary for use during the upcoming 2018 season.
The logo was designed by the team's ad agency, Forrest & Blake, and features a full color drawing of the ballpark on the Atlantic League's red and blue seamed baseball.
The baseball is surrounded by a round navy blue border with the words "TD Bank Ballpark" in white on the top and the years 1999 and 2018 listed in white on the bottom with silver stars. 1999 signifies the year the ballpark opened and 2018 being the current season. The years are separated by the Somerset Patriots primary logo on the bottom of the border.
The logo is tied together with a red banner with the words "20 Years" shaded in white and silver on it. The entire logo is outlined and highlighted in gold.
"We are very excited to celebrate our 20th season at our home, TD Bank Ballpark," said Somerset Patriots President/General Manager Patrick McVerry. "It's hard to believe that it's been 20 seasons, but I guess the saying that time flies when you're having fun applies here. We look to continue to grow and provide our fans with a fresh and fun experience every time they come out to a game."
TD Bank Ballpark opened for business on June 7, 1999 and has become the premier family and community destination in Central New Jersey.
The award-winning ballpark has consistently welcomed over 370,000 fans per season and over 5,200 fans per game since opening. The Somerset Patriots are projected to welcome the 7,000,000th fan to TD Bank Ballpark in late July of 2018.
Ballpark Digest's two-time winner of Best Independent Minor League Ballpark (2015 & 2016) is home to 70 Somerset Patriots homes games each year, as well as several outside events ranging from baseball tournaments, high school and college games, fundraising events, concerts, and many other uses.
The Somerset Patriots recently completed their 20th Season Anniversary in which they led the Atlantic League in attendance and made their 14th appearance in the playoffs. The Somerset Patriots will welcome their 7,000,000th fan in their 20th season at TD Bank Ballpark in 2018. For more information about the 2018 season, please visit www.somersetpatriots.com.
About The Atlantic League of Professional Baseball (ALPB)
The Atlantic League has been a leader in professional baseball and a gateway to Major League Baseball since 1998. Over 37 million fans have attended Atlantic League games and more than 800 players and 50 managers and coaches have joined MLB organizations directly from the ALPB. The Atlantic League emphasizes winning baseball games, showcasing the talent of top-caliber players and offering affordable family entertainment to metropolitan markets serving nearly 15% of the US population.
For more information, please visit www.atlanticleague.com.
Your Thoughts
comments