Somerset Patriots 1B/OF Joe Maloney Signed By Baltimore Orioles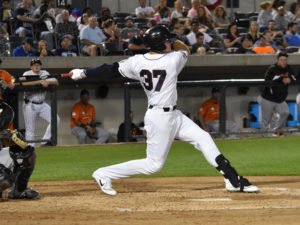 Bridgewater, NJ- The Somerset Patriots have announced that first baseman/outfielder Joe Maloney has been signed by the Baltimore Orioles organization.
Maloney briefly joined the Somerset Patriots at the end of 2017 and the playoffs after an MVP season with the Rockland Boulders of the Can-Am League. He appeared in two regular season games in Somerset where hit .444 with two doubles and an RBI. He scored a run and had an RBI in the opening game of the Liberty Division Series.
For Rockland, Maloney set a new Can-Am League record with 35 home runs to go along with his .282 average, 84 runs, 105 hits, 24 doubles, and 101 RBI. Both his home runs and RBI led the league.
Maloney has prior minor league service in the Texas Rangers and Minnesota Twins organizations. He played in 39 games for Double-A Chattanooga in 2016 and had six home runs and 51 RBI.
Maloney has a career .265 average with 350 runs, 557 hits, 144 doubles, 10 triples, 93 home runs, and 402 RBI over seven seasons.
He is the 13th player from Somerset's 2017 roster to join a Major League organization this year.
The Somerset Patriots recently completed their 20th Season Anniversary in which they led the Atlantic League in attendance and made their 14th appearance in the playoffs. The Somerset Patriots will welcome their 7,000,000th fan in their 20th season at TD Bank Ballpark in 2018. For more information about the 2018 season, please visit www.somersetpatriots.com.
About The Atlantic League of Professional Baseball (ALPB)
The Atlantic League has been a leader in professional baseball and a gateway to Major League Baseball since 1998. Over 37 million fans have attended Atlantic League games and more than 800 players and 50 managers and coaches have joined MLB organizations directly from the ALPB. The Atlantic League emphasizes winning baseball games, showcasing the talent of top-caliber players and offering affordable family entertainment to metropolitan markets serving nearly 15% of the US population.
For more information, please visit www.atlanticleague.com.
Your Thoughts
comments