Rebekah Solomon Named New FMS-SGS Campus Principal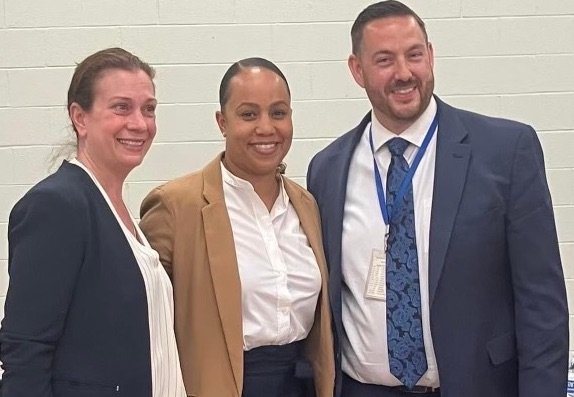 ---
The Board of Education on April 25 once again chose home-grown talent in naming Rebekah Solomon as the new principal at Franklin Middle School – Sampson G. Smith campus.
Solomon, who since 2020 has been the principal at Franklin Park School, starts her new position on July 1 at a salary of $148,500.
Solomon will replace Evelyn Rutledge, who is retiring at the end of the school year after being Sampson's principal since 2016.
Entering her 20th year in education, Solomon said that was not her career path upon graduating college.
"I didn't go to college to become an educator, I went to become a physical therapist," she said. "After college, I substitute taught and I loved it and I thought it would be best for me to become a teacher."
Solomon's entire educational career has been in Franklin, she said.
Starting as a teacher at Sampson in 2004, Solomon said she found her calling as an administrator.
"I've been an administrator on all levels," she said. "Vice-Principal at Franklin High School, principal at the elementary level and now middle school principal."
Solomon said she's excited to begin her new chapter.
"I would not have thought about it if Evelyn had not put in her retirement," she said of the Sampson job. "When I saw the opportunity, I could not let it pass me by."
"While I'm sad to leave FPS, I'm just so excited to have those 5th Graders rejoin me as 6th, 7th and 8th graders," she said. "I'm excited to be able to continue to be with them."
Board of Education president Nancy LaCorte said Solomon "will do an excellent job, as she did at Franklin Park School and the high school, always keeping the students and the staff at the forefront of all of her decisions."
"She said that although she looks busy, which she always is, she always has time for people," LaCorte said.
The soon-to-be-vacant Franklin Park School principal's position will be advertised soon, she said.


Your Thoughts
comments