Paul Tarantino; Army Veteran, Retired Teacher, Master Potter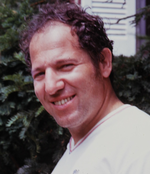 Paul Joseph Tarantino of Somerset passed away surrounded by his family on Monday, September 26.
Born on July 16, 1931 in Jersey City, he attended St. Peters Prep in Jersey City and completed his bachelor's degree at Fairleigh Dickinson University and master's degree at Rutgers University. He was a veteran, serving overseas in the United States Army.
He married Vera Dean (Pardy) on December 26, 1955 and enjoyed 60 years of marriage. Together they joyfully raised nine children. Paul taught elementary school for 26 years in the Edison school district. After retiring from teaching, Paul studied the craft of ceramics and became a master potter.
Paul's joy was centered on his wife and his family. He will be greatly missed.
He loved classical music, especially Mozart. He studied the violin. He was a world traveler and greatly enjoyed sailing on cruise ships. He played tennis and loved to read. He was fond of working on crossword puzzles.
Paul was predeceased by his parents, Louise and Paul Tarantino; his twin brother, Carl, and his sister, Doris Troeger. He is survived by his beloved wife, Vera and nine children: Mark, Roy, Amy, Joel, Brian, April, Owen, David, and Gwen; also 18 grandchildren: Ruth-Ann, David, Brian, Christopher, Michael, Elizabeth, Laura, Rose, Nicholas, Alysse, Faith, Hannah, Sophia, Erin, Trent, Sarah, Keith, and Jason, and brothers-in-law, William J. Pardy and Ray Troeger.
There will be a viewing on Sunday, October 2, 2016 at Gleason's Funeral Home in Somerset from 1:00 to 5:00 p.m. The funeral will be held on Monday October 3 at St Matthias Roman Catholic Church in Somerset at 10:30 a.m.
Your Thoughts
comments