Patriots Sweep Double Header Over Bluefish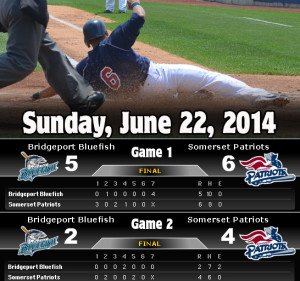 Bridgewater, NJ-  The Somerset Patriots swept the Bridgeport Bluefish in a double header at TD Bank Ballpark on Sunday afternoon.
Game 1: The Patriots took the first game of the double header 6-5 over the Bluefish.
The Patriots jumped out to a 3-0 lead in the bottom of the first on an RBI double by Aharon Eggleston and a two-run home run by Corey Smith (4) that cleared both walls in left field.
Juan Martinez's RBI double put the Bluefish on the board and cut the lead to 3-1 after two innings of play.
In the bottom of the third the Patriots scored two more runs on RBI singles by Smith and Brian Barden to make the score 5-1.
Eggleston hit an RBI single in the bottom of the fourth for a 6-1 advantage.
In the top of the seventh, the Bluefish rallied for four runs. Prentice Redman hit an RBI single and Ramon Castro hit a three run home run (1) making the final score 6-5.
Patriots starter Derell McCall (4-2) picked up the win, allowing a run on five hits in five innings of work. Bridgeport starter Hunter Jones (3-5) suffered the loss, allowing five runs on four hits in three innings pitched. Jon Hunton earned his 17th save of the season, retiring the final two batters of the game.
Game 2: The Patriots defeated the Bluefish 4-2 in the second game of the double header.
Jonny Tucker hit a sac fly that brought in a run and an error on the play allowed Adam Donachie to score for a 2-0 lead in the second inning.
Billy Gonzalez put the Bluefish on the board with an RBI single and later was brought home for the tying run on a single from James Simmons in the top of the fourth.
The Patriots regained the lead in the bottom of the fifth on a two-run double by Smith for the 4-2 final.
Patriots starter Gary Moran (4-3) picked up the win, allowing two runs on seven hits in five innings pitched. Bluefish reliever Kyle McMillan (0-1) suffered the loss, allowing two runs in 1.1 innings pitched. Hunton came on to earn his 18th save of the season and his second of the day with a scoreless seventh inning pitched.
The 2014 Somerset Patriots Season presented by Ford will continue at home on Monday evening with a 7:05 pm game against the Bluefish. The game includes Spider-Man Night.  For tickets, call (908) 252-0700 or visit www.somersetpatriots.com.
Your Thoughts
comments