Life Story: Robert L. Belloff Jr., 76; Was Corrections Officer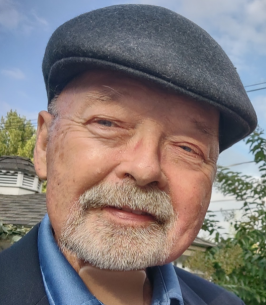 It is with both immense sadness and deepest gratitude that the Belloff family announces the passing of our patriarch, Robert L. Belloff Jr., on March 18.
While we are saddened by the loss of the man who is our father and grandfather, our sadness is tempered by the abundant evidence of happiness he brought to the world through his connections with all – whether relative, friend, or associate. The sacrifices he made of his time and circumstance, the lessons he taught to others from his own rich experiences, and the passion and joy with which he undertook his hobbies and interests, will live on in others for generations. He truly loved others and enjoyed their love in return.
Bob was born in New Brunswick on October 31, 1946, to Robert Belloff, Sr. and the former Emily Lesnowski. He lived in the area nearly all his life, graduating New Brunswick High School in 1964. Married to the former Carole Parmley in 1967, he moved to Somerset in 1970 and raised their three children, Michael, Bob III, and Melissa. He was always deeply committed to making a comfortable life for his family and children, working hard to maintain his home and bring his family all the advantages he possibly could. From do-it-yourself home repair and remodeling, to turning wrenches on the family car and the kids' cars, to offering neighbors advice and a helping hand whenever called upon, Bob was always there to keep the lives of those around him up and running.
Bob became a Corrections Officer at the Middlesex County Adult Corrections Center in 1968, in the days when it was still known as "The Workhouse". He worked at this profession for 25 years, rising to the rank of Lieutenant, before retiring in 1993. Bob was deeply involved with the tactical training operations at the MCACC and beyond, participating in many officer training and marksman competitions over his years there. Bob maintained friendships and connections with his co-workers for the rest of his life. He often relayed to his family and children a chance meeting or impromptu breakfast/lunch with a colleague from those days, and his former co-workers recalled him with warmth and respect, citing his guidance and example as an inspiration to them in both their personal and professional lives.
Bob was a man of many hobbies and interests and embraced life with passion. He was an avid marksman, fisherman and hunter, auto enthusiast and skilled mechanic, and gifted musician. He seemed to succeed at anything he pursued. His 4 a.m. wakeups for fishing trips, his long waits in hunting blinds in freezing weather, and his accuracy at hitting a target with practically any implement were all accompanied by voracious reading and study, diligent application of practice, and a strong emphasis on proper procedures and safety. He willingly imparted this knowledge to others, teaching his crafts to many. But his family were the grandest recipients of his learning and skill. He has breathed life into these same passions for his family, and his children and grandchildren embraced many of his interests and made them their own.
Bob lost his beloved Carole in 2016, but his love for his family and his presence in their everyday lives only increased. "Pop" was a fixture at parties and events, activities for his grandchildren, and enjoyed daily calls, notes, and frequent visits from his children. Bob continued to enjoy archery, hunting, and playing guitar, even attending open mics and sharing his guitar playing with an audience for the first time in his life. He moved to Whiting in 2021, and enjoyed his new home with his two cats, Fozzie and Mittens.
Though Bob is no longer with us in body, his spirit is eternal. The indomitable strength of his personality and his immense capacity for knowledge and understanding, coupled with genuine humility and kindness, are rare qualities to see in a single person. We and all who knew him are gifted by having been a part of his life.
Bob is survived by his brother, Richard F. Belloff of Longmeadow, MA; three children and their
spouses/partners; Michael Belloff (Sandi Bruno-Belloff), Melissa Macarone (Justin), and Bob III (Lisa David), and six grandchildren; Bob IV, Michael Bruno-Belloff, Katie, Josef Bruno-Belloff, Zoe, and Ashlynn Macarone. He was a father figure to many others who embraced him with as much love and respect as his immediate family. We are grateful to all for their love and support of the man who was everyone's "Pop".
Services will be from the Gleason Funeral Home, 1360 Hamilton Street, Somerset. Visiting hours will be from 2-4 p.m. and 7-9 p.m. on March 22.
A Funeral Mass will be held at 10:30 a.m. March 23 at St. Mary of Mt. Virgin R.C. Church, 198 Sandford Street, New Brunswick.
Interment will follow at St. Peter's Cemetery, Somerset St., New Brunswick.
In lieu of flowers, memorial donations may be made to St. Jude's Children's Research Hospital.


Your Thoughts
comments