Life Story: Rene Rivera, 59; Longtime Franklin Park Resident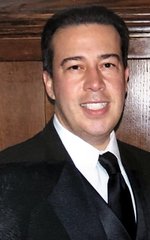 Rene Rivera, 59, passed away Monday, April 29, 2019 suddenly in Kendall Park, New Jersey.
Mr. Rivera was born December 28, 1959 in Manhattan, New York to the late Celestino and Iris (Davila) Rivera. He grew up in New York and relocated in his twenties to New Jersey. Rene was a longtime resident of Franklin Park and Kendall Park.
Rene attend DeVry University, where he earned his Associates Degree. He started his career at Burroughs in Piscataway, NJ and in 1983, he continued his career at FedEx in Somerset, NJ as a Telecommunications Manager. He was a parishioner at St. Matthias Church and a member of the NJ Fishing Game Wildlife Association in Bridgewater. Rene loved baseball, photography and hunting; but most of all he loved being a dad to his three boys. He was very proud of all of his sons' accomplishments and would drop everything to attend every sporting event they had.
Mr. Rivera was predeceased by his brother, Raul Perez.
He is survived by his wife of 30 years, Jean Rivera; his sons, Brandon, Captain Alexander and Corey Rivera; his brother, Ruben and his wife Maria Perez; his sister, Miriam Rivera; his god-daughter and niece, Stacy Irizarry and many nieces and nephews.
Visitation will be held from 5-9 p.m. April 2 at Gleason Funeral Home, 1360 Hamilton St.
Funeral Mass will be held 9:30 a.m. May 3 at St. Matthias Church in Somerset. Burial will follow at St. Raymond Cemetery in Bronx, NY.
In lieu of Flowers, Please consider donations to WestPoint Association of graduates at www.westpointaog.org/giving or Gift Operations, West Point Association of Graduates, 698 Mills Road, West Point, New York 10996
Your Thoughts
comments