Life Story: Norma Yurcisin; Longtime Township Resident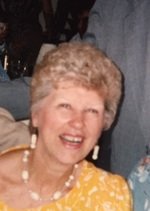 Mrs. Norma Yurcisin passed away January 3 at the University Medical Center of Princeton in Plainsboro, surrounded by her loving family.
Born in Columbus, NJ to Florence and Floyd Conner, Norma had been a Somerset resident for the past 66 years. She was a graduate from Pemberton High School. She helped with the family business for many years in bookkeeping and customer service. J & N Distributors in Fords, NJ, was consistently one of the largest selling Kirby Vacuum Cleaner distributorships in the world, winning many awards, international trips and prizes.
As a devoted mother and grandmother, Norma enjoyed spending time with her children and many grandchildren and taking part in her favorite past times of traveling, gardening, cooking and baking.
Mrs. Yurcisin was predeceased by her husband of 59 years, Joseph, her parents, Florence and Floyd Conner and her sister, Naomi Files.
She is survived by her children, Joseph Jr. and Theresa Yurcisin of Skillman, David Yurcisin of Fillmore, CA., Glen and Susan Yurcisin of Ewing, Pamela and Kevin O'Brien in Wesley Chapel, FL., and grandchildren Erika, Scott, Kyle, Camryn, Marlis, Demi, Conner, Ricky, Luke, Joely and brother James Conner in Jackson, VA and brothers/sisters-in-laws, Evelyn, Anne, Harry, Jean, Daniel, Lynne and many nephews and nieces.
Friends and family are invited to celebrate Norma's life at 10 a.m. Jan. 9 at the Gleason Funeral Home, 1360 Hamilton St., with a memorial service to begin at 11:00am.
In lieu of flowers, donations may be made to the American Stroke Association in Norma's memory.
Your Thoughts
comments