Life Story: Mary Hutt, 95; Coloratura Soprano, Worked In Health Care Industry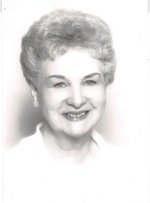 Mary Hutt, formerly of Somerset, passed away on Jan. 1 at the Bartley Health Care Center in Jackson. She was 95 years old.
Mrs. Hutt was born in Scotland and came to the United States as a child in 1923. She trained at Juilliard School in both voice and dance, was a Coloratura Soprano and once sang at Carnegie Hall. She resided in New York City, Atlanta, and Chicago before moving to the Somerset section of Franklin Township in 1965.
She worked for many years as a Receptionist and Administrative Assistant in the Health Care industry in New Brunswick. She was a longtime parishioner of St. Matthias Church in Somerset and a huge fan of the Macy's Thanksgiving Day Parade. At St. Matthias she was an original member of the choir and a member of the Rosary Alter Society. Mary was a loving mother, a dear sister, caring grandmother and a kind friend, she will be missed by many.
Mrs. Hutt is survived by her children, Douglas and his wife Josephine of Somerset, Lorraine and her husband Scott of Jackson. She is also survived by her siblings Michael and John Mullarkey, Veronica Antoniazzi, and four grandchildren: Michael and Dylan Hutt, Glen and Leah Brinley.
She is predeceased by her husband Claude Hutt, sister Kathleen and brother James Mullarkey.
Family and friends may visit at Gleason Funeral Home, 1360 Hamilton St., from 2 to 4 o'clock in the afternoon and from 7 to 9 o'clock in the evening on Jan. 4.
Mass of Christian Burial will be at 10:30 in the morning at St. Matthias Church. Burial will follow at Gate of Heaven Cemetery in Hawthorne, NY.
In addition to flowers, please consider a contribution to the Alzhiemer's Foundation of America.
Your Thoughts
comments