Life Story: Elizabeth M. Bessenyei, 91; Co-Owned A. Bessenyei & Son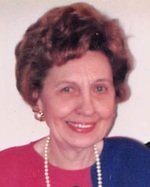 Elizabeth M. Bessenyei, 91, passed peacefully on Christmas Eve morning at Somerset Woods Nursing Home.
She was born on December 1, 1926 in East Pittsburg, Pa., and graduated from Scott High School. After high school she was employed as a secretary at J.C.Penny's. She was a World War II bride, marrying her loving husband Albert Bessenyei at St. Elias Church on May 12, 1945. They were married over 60 years before his passing away in 2006.
"Betty" as she was known to her friends and family was a member of St. Joseph's
Byzantine Catholic Church in New Brunswick. She was a member of their Alter Society and Women's Guild. She was a key contributor to the many functions the church held over the years. She was on the committee for her church's participation in New Brunswick's Annual Hungarian Festival that's always held the first Saturday of June and has never forgotten her Hungarian heritage. She was also a member of the Franklin Township Lioness club and participated in many community events. She was also an owner in the family business, A. Bessenyei & Son fuel oils, located in Somerset for over 50 years. She worked along with her husband and in-laws and then along with her daughter and son-in-law, Theresa and Robert. After selling the business she spent her time enjoying her grandchildren and great grandchildren.
She was pre-deceased by her husband, Albert; her parents, George and Elizabeth Sulinchak; her in-laws Albert and Suzanna Bessenyei; her brother, Rt. Rev. Msgr. Albert Gajdos; sisters, Helen Yager and Margaret Polosky, and son-in-law Robert Bilheimer.
She is survived by her daughters Theresa Bilheimer of Somerset and Carol and Gary Wimmer of Milltown. She is also survived by her five grandchildren, Christine Rodriguez of Somerset, Robert A. Bilheimer of Brick, James Bilheimer of Somerset, Lauren Tullo of Las Vegas and Erin Wimmer of Milltown. Also she is survived by seven great-grandchildren, Zachary, Jake, Luke, and Derek Bilheimer, Ava Rodriguez, Dylan and Sarah Tullo. She is survived by her loving sister, Magdelene Seman of Pittsburgh, Pa.
She has touched the lives of family and friends with her loving kindness and graciousness.
Visitation will be from 10-11 a.m. Dec. 29 at the Gleason Funeral Home, 1360 Hamilton St.
Funeral services will begin at 11:45 a.m. Jan. 1 at St. Peter and Paul Church in Somerset. Burial will follow at St. Peter Cemetery in New Brunswick.
Your Thoughts
comments