Life Story: Dolores Marie Hancocks, 89; Member Of Swinging Singing Seniors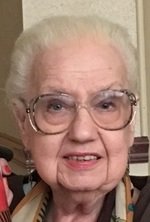 Mrs. Dolores Marie Hancocks passed away July 18 at St. Peter's University Hospital in New Brunswick. She was 89 years old.
Mrs. Hancocks was born in Jersey City and graduated from Lincoln High School. She met her husband in Jersey City and shortly after marrying the young couple moved to Somerset in the early 1950s where she would live until her passing.
She worked in banking for many years at the Franklin State Bank eventually retiring from Bank of America in Somerset. She also worked as a young lady as a telephone operator in New York City prior to getting married. Mrs. Hancocks was a member of the Franklin Township Seniors and the Swinging Singing Seniors. She enjoyed to travel including trips to Atlantic City. Mrs. Hancocks loved a good western film and was a loyal New York Ranger Fan. Mrs. Hancocks was a long time parishioner of St. Peter the Apostle Church in New Brunswick.
She was pre-deceased by her husband John in 2013 and was also pre-deceased by her daughter Maryanne Belloff and her brother Raymond Romanowski.
She is survived by her children, Philip Hancocks and his wife Lori of Maryland, Christopher Hancocks of South Brunswick, James Hancocks and his wife Patricia of North Brunswick, her grandchildren Felicity, Brian, Angela, Adam, Amanda, Sara, Tyler, Lara, and William and her great grandchildren Samantha, Will, Ezra, Brody, Shanna, Keegan, Kira, and Marisa.
Funeral services will begin 8:15 a.m. July 22 at the Gleason Funeral Home, 1360 Hamilton St., followed by a 9 a.m. funeral mass at Sacred Heart Church in New Brunswick. Interment will then follow at Resurrection Cemetery in Piscataway.
Visiting will be held from 2-4 and 7-9 p.m. July 21 at the Gleason Funeral Home.
Please consider a contribution in Mrs. Hancocks' name to St. Peter the Apostle Church, 94 Somerset Street New Brunswick 08901.
Your Thoughts
comments