Life Stories: Anne 'Dolly' B. Stahl, 87, 30-Year Township Resident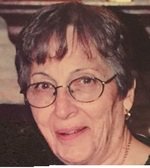 Mrs. Anne "Dolly" B. Stahl passed away Nov. 25, at St. Peter's Hospital in New Brunswick. She was 87 years old.
Born in New Brunswick to Carmine and Rose DelCasale, Mrs. Stahl had lived in Somerset for the past 30 years.
She was a long-time parishioner of St. Mary Mt. Virgin Church in New Brunswick. A talented cook and seamstress, Mrs. Stahl loved to travel, especially to Hawaii. A devoted wife and mother, she truly found her calling as a loving and doting grandmother.
Mrs. Stahl was predeceased by her parents, by her son, Gregg Alan Stahl in 2002, and by her brother, Michael DelCasale and sisters Helen Povolo and Mollie Forti.
She is survived by her beloved husband of 64 years, William Stahl; by her loving daughter Suzanne Heyer and her husband Christopher of Emerson; by her cherished granddaughter, Marissa Heyer; by her dear brother, C. Thomas DelCasale of Somerset, and by a host of extended family, nieces, nephews, neighbors, and friends.
Visitation will be on Nov. 28 from 4p.m. to 8 p.m. at the Gleason Funeral Home, 1360 Hamilton St. The funeral mass will begin at 10 a.m. Nov. 29 at St. Mary's in New Brunswick followed by committal at Franklin Memorial Park in North Brunswick.
In lieu of flowers, please make memorial contributions to St. Jude Children's Hospital at www.stjude.org
Your Thoughts
comments