In Your Opinion: Assemblyman Danielsen's Statement To FERC On Gas Compressor Station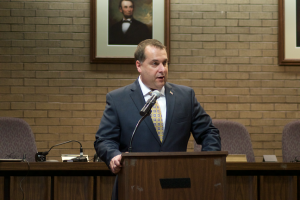 Statement by Assemblyman Joe Danielsen, 17th Legislative District in New Jersey, before FERC concerning the Williams-Transco Natural Gas Compressor Station #206, Docket No. PF16-5-000, submitted on October 11th 2016.
Thank you for the opportunity to voice my strenuous concerns in the above matter as the representative for Franklin Township in the New Jersey State Legislature.
As a lifelong resident of the community and a volunteer firefighter, I am keenly aware of the location for the compressor station which gives me great pause.
First, the selected area will remain an active blasting sight and presents the following concerns which must be addressed for my constituents to feel comfortable about the placement.
Currently, the water pressure in the area has always been low. What steps will be taken to increase water pressure in assisting our volunteer Fireman in case of an emergency?
Will the surrounding volunteer Fire Departments receive ample training should a gas fire occur?
What equipment and/or facility upgrades will be provided to Fire District 2 and its volunteer fire companies?
What possible concerns should my constituents have to Volatile Organic Compounds (VOC's) especially at peak levels during blowdowns and venting situations?
Second, the current pipeline is using pre 1970's technology which is antiquated and dangerous to the current pressure loads needed in said project. Meanwhile, the Trap Rock Quarry will continue as an active blast zone for at least two more decades, further increasing the level of danger and concern.
Perhaps your best resolve is to review all existing pipelines in our area/state and consolidate operations into a meaningful and less overbearing system of potential health and safety threats.
My constituents and all citizens surrounding the site expect and demand that as our federal regulators, you carefully review and deliberate on all pipeline projects, fully appraised that your decision impacts greatly on the social environment of many.
Those directly impacted have stated time and again the serious concerns associated with this project and now it is your turn to give us the same piece of mind you would want for your families.
Thank you for the opportunity to express my concerns.
Your Thoughts
comments