Franklin High School Basketball Head Coaches Resign, Search Is On For Replacements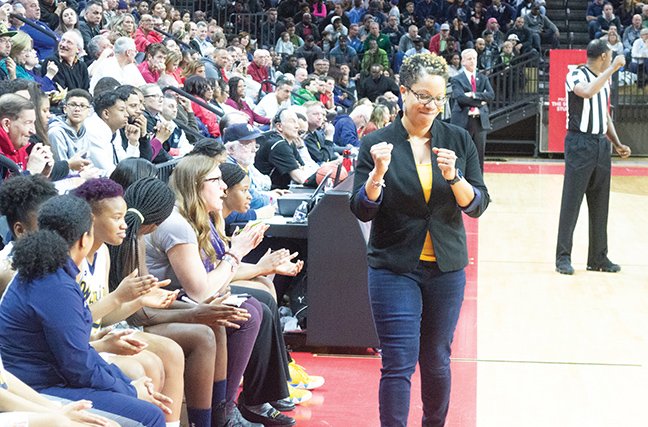 ---
Franklin High School's boys' and girls' basketball programs took hits recently with the resignations of both of their head coaches.
Girls' head coach Audrey Taylor, who gained national recognition during the historic 2018-19 season, and boys' head coach Tony Mento, who returned to his Alma Mater to revive a struggling program, both submitted their resignations in the past month.
Taylor was a 12-year veteran at Franklin, the school in which she started her coaching career.
In that time, she amassed a career 247-95 record, and her teams were NJSIAA Group IV champions four times, Group IV Sectional champions five times, and NJSIAA Tournament of Champions champions twice, including the 34-0 season in 2018-19.
During her tenure, Taylor helped a number of girls develop their talents to go on to play in college, most notably Diamond Miller, who was the No. 2 pick in the recent WNBA draft.
Taylor said that she is not sure what she will do next, other than "enjoy my time right now.
"It was an amazing experience," she said. "I was able to do a lot of different things and impact a lot of  different kids."
"I'm in love with the community and what we were able to do together," she said.
In a letter written to her players, coaches and "the Warrior Nation," Taylor said that her "experience at Franklin was beyond anything I could have imagined! I came in determined to teach the game I love with undeniable passion, intensity and empathy and without any amount of hubris I believe I did just that."
"Contrary to what many will believe, the development of young women into talented players with a winning mentality and impacting their lives on & off the court has meant more to me than any of the championships and trophies," she wrote.
"I want to say THANK YOU from the bottom of my heart," Taylor wrote. "The past twelve seasons have taught me so much, and have brought me some of the most rewarding memories of my life."
"I can't imagine a better community to start my career as a head coach," she wrote. "My experience at FHS has helped prepare me for the next step in my journey and I will forever be grateful for starting my head coaching career with you."
"To my team: I thank each and every player who gave me the privilege of coaching you over the past twelve years," she wrote. "You worked hard. You believed in the process. You got better each and every day. You taught me so many lessons and you made me a better coach. Each one of you will hold a special place in my heart forever."
"To my fellow coaches, thank you for your unwavering support and loyalty!," Taylor wrote. "To the FHS administrators especially Anthony Brito, Rebekah Solomon and former Athletic Director Kim Kenny, thank you for giving me a chance! Thank you for believing in me."
"I am especially thankful for the support I received from Alicia Kavanagh, Anthony Brito, Pat Cullen, and Eric Osman; each of you helped me keep everything running smoothly behind the scenes and in the gym!," she wrote. "We were lucky to have such great supporters around us who truly cared about us.
"And to the Warrior Nation fans & parents: Your dedicated support of our program was truly appreciated," she wrote. "From the beginning, I realized what a privilege it was to lead these young ladies and to be a part of the community. Your support through the victories and challenges was appreciated."
"This is a special community and I appreciate each one of you who supported us," Taylor wrote. "I will forever love my Franklin community!"
Taylor will remain busy. She has her own foundation, Passion 4 Youth, through which she runs or collaborates on a number of athletic and mentoring programs, including The 3 League and Girls In Sports.
---
Mento has helmed the boys' program for the past five years, coming over to Franklin from Rutgers Prep, where he remains an English teacher.
During that time, he built a record of 69-53, and turned around a flagging program.
"It's my Alma Mater, and for a long time the program struggled," he said. "Since the coaching staff and I took over, we haven't had a losing season and for the last few seasons we've been a contender in Group IV."
"Whoever takes over the job is getting a really good program and I'm looking forward to watch the Warriors' progress," he said.
Mento said that while he will remain a teacher, he has decided to retire from coaching.
"It's just time for a life change, I've been coaching for the better part of 25 years, various sports," he said. "We're empty nesters now, so I'm going to spend some time with the wife now, and looking forward to it."
Although Mento said he will not be coaching "for quite some time," he added that if he were to keep coaching, "it would have been at Franklin High School."
"The support I had there was second to none," he said. "It was very difficult to leave."
Board of Education president Nancy LaCorte said Taylor and Mento "are both amazing coaches. They have been more than someone coaching a sport. They have been mentors to their athletes."
"I sat in on Coach Mento's parent night," she said. "(Schools Superintendent) Dr. (John) Ravally saw me in the auditorium and said the Teen Pep event we were scheduled to attend was in the cafeteria. I knew that but was mesmerized by what Coach Mento was saying to the kids and their parents."
"We all know Coach Taylor's work on the court," she said. "Ask any parent or student/graduate what type of person she is off the court, and you will hear the impact she has made on the student-athletes' lives."
Ken Margolin, the FHS athletic director, was effusive in his praise of both coaches.
"They are amongst the two best coaches I have had the pleasure of working with in my tenure," he said.
"Coach Taylor … an amazing 12 years," he said. "Just the consummate professional, communicates with kids on a whole different level. A tremendous coach. Can't say enough about her."
"I'm sure when she's eligible, she'll be in the Franklin Hall of Fame," he said. "A hard, tough, high-standard coach. We were lucky to have her for as long as we did."
When Mento took over the boys' program, Margolin said, "we did not have a strong program, we weren't 500 for any of the seasons his predecessor had. He built us up to a plus-500 team to a team vying for sectionals and one of the best public school teams in the state."
"He was building a program, not just a varsity team," Margolin said. "He's beloved by his players. He has a lot of alum who are in college, and when they come back they see him and the see the kids. That's the sign of a great coach."
Margolin said the interview process has begun for both positions.


Your Thoughts
comments