Franklin Food Bank Debuts 'Ambassador' Fundraising Program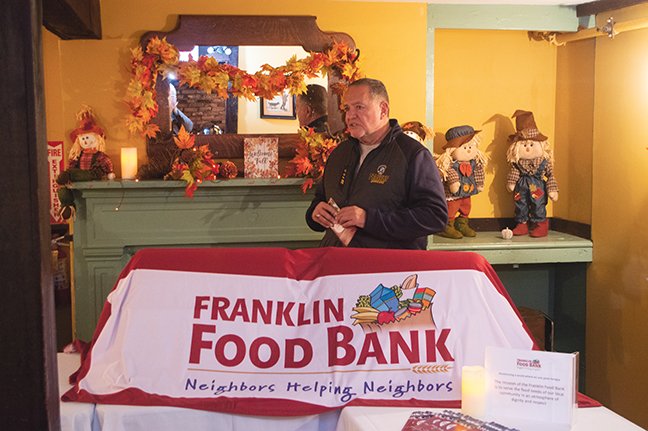 ---
A fundraising program designed to provide long-term sustainability for the Franklin Food Bank was debuted November 12.
Called the Ambassador Program, the goal is to generate donations of between $5,000 and $10,000 per month.
Food Bank officials hope that can be accomplished by hundreds of township residents agreeing to donate a minimum of $10 a month in perpetuity. There are currently 20 "ambassadors" in the program.
"We're looking to have people not only donate money to us, but we're looking for them to become basically a part of our organization, to feel connected, to know what we're doing, to be involved in what we're doing," Food Bank executive director Frank Hasner said.
Longtime Food Bank supporter Bill Grippo has been tapped to lead the fundraising effort. Grippo said he's committing to $25 per month.
The perpetual contributions are meant to give the Food Bank a reliable funding source for the times special events – such as the Tour de Franklin or golf outing – may be affected by weather, Grippo said.
"For the Food Bank to really be secure in the future, it needs a sustaining giving program," he said. "Everybody in Franklin Township who has a commitment to the Franklin Food Bank should become an ambassador."
"If we get 500 people to become $10 ambassadors, that provides the food bank with stability to keep its roof over its head," Grippo said.
"The Food Bank is part of Franklin Township, and we need to recognize that," he said. "These are people at the hardest time of their life, when they can't afford something; to be able to choose the food they want with dignity and to come out of there with what they need for their family, that's what we want."
"It's just good people helping neighbors," he said. "This is us taking care of our own people, and this ambassador program will secure the food bank's future."
To become a Franklin Food Bank Ambassador, go to its web site at www.franklinfoodbank.org.


Your Thoughts
comments