FHS Sports: Luck, Tough 'D' Help Warriors Hold On To Top Union Farmers 14-13
---
A little luck and some tough late-game defense led to the second win of the season Oct. 13 for the Franklin High School Warrior football team, who beat a tough Union High School 14-13.
The game boiled down to about the last 1:46, after Franklin's Dalen Merricks scampered into the end zone from the 2 yard line to give the Warriors a 14-7 lead and, it seemed, the game.
But the Union Farmers weren't finished.
The very next play, Union came within a point after a touchdown on a kickoff return.
But an errant extra point attempt – the ball sliced far to the right of the uprights – left the score at 14-13, and preserved hope for a Warrior win.
And again, Union wasn't done.
After recovering a fumbled snap on the Warriors' side of midfield, the Farmers converted a fourth=and-long attempt to keep a late drive alive.
But tough pass defense by the Warriors prevented Union from putting anything together, and the Farmers surrendered the ball on downs with just under 30 seconds left to play.
The two teams slugged it out during the scoreless first half, but Franklin struck first in the third quarter with a 16-yard run by quarterback  Antonio Scott.
Union tied it up shortly after, which led to the fourth quarter dramatics.
Warrior coach John Paczkowski said the win continued something that he saw in the Warriors' Sept. 28 overtime loss to Hunterdon Central.
"We've been talking about finishing, we were close last week with the loss in overtime, we finally finished and it's good for the kids," Paczkowski said.
The game plan for Union, he said, was to "play solid defense and try to get our athletes some space."
"You're always happy with the win," he said. "We'll obviously look at the film and see what we have to improve on and move on. The season's not over yet."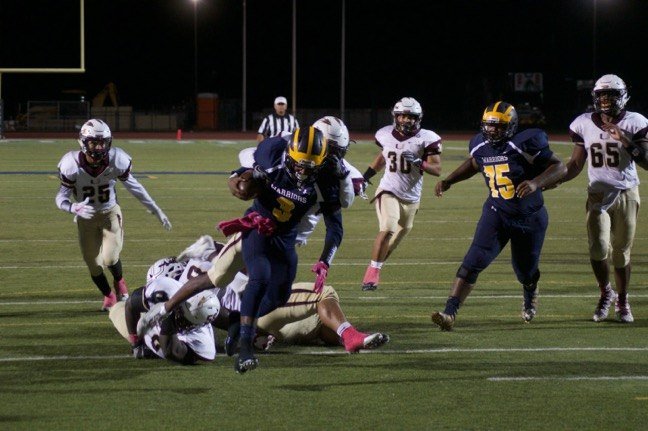 Your Thoughts
comments