Ducks Win Game 5. Eliminate Patriots From Playoffs.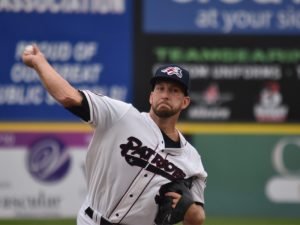 Bridgewater, NJ- The Long Island Ducks (3-2) defeated the Somerset Patriots (2-3) 3-2 in ten innings in Game 5 of the Liberty Division Championship Series at TD Bank Ballpark on Sunday evening. With the win, the Ducks have won the Liberty Division Championship and will advance to the Atlantic League Championship.
The Ducks took an early 1-0 lead in the top of the second inning on an RBI infield single by Rubi Silva.
Endy Chavez hit a two-run single in the bottom of the third inning to give the Patriots a 2-1 advantage.
David Washington tied up the game in the top of the fifth inning with a two-out RBI single to make the score 2-2.
The Patriots threatened in the bottom of the ninth inning, but ultimately stranded the winning run on second base.
Long Island then took the lead in the top of the tenth inning on an RBI single by Ramon Cabrera for the 3-2 final.
Francisco Rodriguez (1-0) picked up the win with a scoreless ninth inning. Logan Kensing (1-0) suffered the loss, allowing a run on three hits in an inning pitched. Matt Larkins earned the save, retiring the final three batters of the game.
Bobby Blevins pitched six strong innings, allowing two earned runs, in his return to Somerset in a no decision.
The Somerset Patriots will be back in action in the spring of 2019. Stay up to date on all the team news throughout the off-season online, on all of our social media platforms, and on our mobile app. For more information, visit www.somersetpatriots.com.
Your Thoughts
comments