Township Fines Property Owners Who Demolished Historic Building Without Permits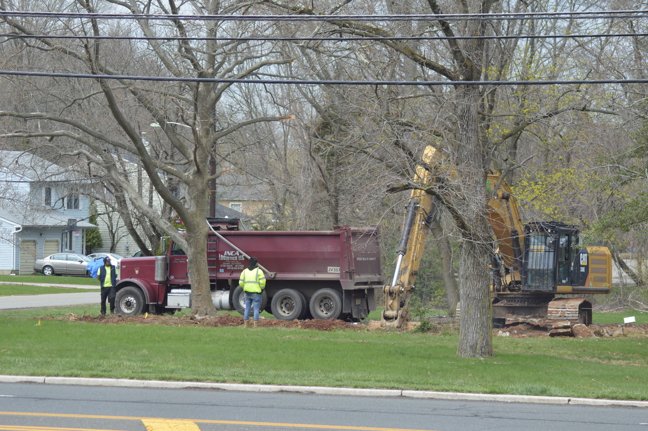 ---
The owner of Route 27 property located in the Franklin Park Historic District faces $8,000 in fines after they apparently demolished historic buildings without the proper permits.
The main building, located at 3011 Route 27, was built in 1840 and sat on the site of Somerset County's first courthouse, according to Andrew Burian, chairman of the township's Historic Preservation Advisory Commission.
The property owner – listed as JHT Properties of South Plainfield – was mailed violations and called on April 6, said township construction official Vincent Lupo.
"Home was demolished without benefit of permits and penalty amounts we have issued are the maximum allowed by regulation ($8,000.00)," Lupo said in an email. "As they have not received any hard copy paper yet, they will be able to appeal to the Somerset County Board of Appeals within 15 days of receiving the notices."
Burian said at the April 6 commission meeting that he discovered the demolition the previous week while he was driving down Route 27.
Burian reminded the Commissioners that the property owners had come before the Commission in 2018 for its blessing on demolishing the house.
"We denied it, we asked for an historic structure report, we asked for archeology, asked for a whole bunch of stuff," he said. "They came back with a report that was inadequate."
"We had a presentation on the report, which was inadequate," he said. "The architect came and was rather arrogant and pompous with us, and was not really descriptive of the property. He was not an advocate in any capacity for any of the historic nature of the building. He was serving his client, but he did himself a disservice in the way he presented; he basically said, there's a hundred of these houses in town, getting rid of one won't hurt."
Burian said teh Commission formed a sub-committee, and was invited to tour the property.
"We were stood up," he said. "We showed up, the owner was there, the professional did not show up."
Burian said when he saw the demolition, he pulled his car over and called Vince Dominach, the township's liaison to teh Commission.
"I confirmed with him that no permits were applied for, no permits were granted, and the site was illegally demolished, and any remnants of the building completely removed," Burian said.
"My opinion on this is that, at the end of the day, after them coming to our commission, them seeking our advice, knowing that a Certificate of Appropriateness was never issued, knowing that permits were never sought, in my opinion it was a flagrant and wanting disregard of the laws regarding demolition in Franklin Township," Burian said.
"It's really frustrating, because it's one of the last jewels of what was the Franklin Park district," he said.
"It's sad and frustrating that this property, and the barn attached to it, was demolished," he said. "It's probably probable that it would happen anyway, but it's a complete disrespect of what we do … and a complete disrespect of the law and requirements of demolition in Franklin."
"I think that everything should be thrown against them," Commissioner Bob LaCorte said. "There were a lot of coins from the 1700s that were found all over town, and I'm sure that area had a lot of stuff there. I'm pretty aggravated that this happened."
"They should throw the book at them," LaCorte said.


Your Thoughts
comments