Somerset Patriots Drop First Game Of The Season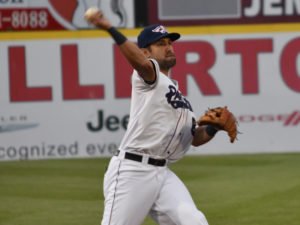 Bridgewater, NJ-   The Long Island Ducks (3-4) defeated the Somerset Patriots (6-1) 10-6 on Thursday evening at TD Bank Ballpark to hand Somerset their first loss of the 2017 season.
The Ducks took an early lead with runs in the first two innings on a sacrifice fly by Nolan Reimold and an RBI single by Elmer Reyes.
The Patriots answered with three runs in the bottom of the second inning. Aharon Eggleston got the scoring started with an RBI single and Darren Ford later plated two more with a double for a 3-2 advantage.
Alex Burg gave the Ducks back the lead in the third inning with a three-run home run (2) that made the score 5-3.
Somerset came right back in the bottom of the frame with a run on a double play and the tying run on Eggleston's RBI base hit.
Long Island wasted no time recapturing the lead on a solo home run by Delta Cleary Jr. (1) in the fourth inning. Two more runs were added to the lead in the fifth inning on Nate Freiman's solo blast (4) and Burg's RBI.
"I think [Logan] Darnell's command was a little off and he was missing over the plate a little bit and they were taking advantage of it," said Somerset Patriots manager Brett Jodie. "But I was happy how we answered a couple of times to put ourselves right back in the game until the end. We just couldn't push anything else across."
Eggleston struck again in the bottom of the fifth inning to record his third RBI of the game on a single that cut the lead to 8-6. He would finish the game 3-for-3 with a run scored and three RBI.
"For some reason when I see lefties I just keep it simple," said Eggleston of his performance. "I don't try to do too much. I didn't knock the cover off the ball, but I found some holes and got a couple knocks."
The Ducks scored in the eighth inning on a sacrifice fly by Fehlandt Lentini and again in the ninth inning on an RBI single by Dan Lyons for the 10-6 final.
Rob Rogers (1-0) picked up the win with two scoreless innings pitched. Patriots starter Logan Darnell (0-1) suffered the loss, allowing eight runs on ten hits in five innings pitched.
The 2017 Somerset Patriots Season presented by Ford will continue on the road until Friday, May 5th when the team returns to TD Bank Ballpark for a 7:05 pm game against the York Revolution. The game includes a Post Game Fireworks Show presented by Fras-Air Service Experts. For tickets, visit www.somersetpatriots.com.
Your Thoughts
comments