Somerset Patriots Bring Back MLB Outfielder Ramon Flores
​Bridgewater, NJ- The Somerset Patriots today announced that former New York Yankees outfielder Ramon Flores has been re-signed for the 2019 season.
"I feel good coming back to play again for the Patriots," said Flores. "I spent some time with the team last year and it was a very good experience. I had a lot of fun. I'm going to do my best to help the team win this year."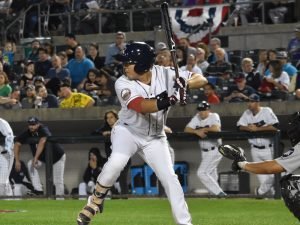 Flores enters his second season with the Somerset Patriots and second in the Atlantic League.The former big leaguer began his 2018 season with Triple-A Pawtucket in the Boston Red Sox organization before he signed with the Patriots in early July. He hit .280 over 55 games in Somerset with four home runs, 31 RBI and a .337 on-base percentage to finish the season.
Additionally, Flores started in all five postseason games, going 6-for-18 (.333) from the plate with a home run, two RBI and three walks. Including the postseason, the left-handed outfielder reached base safely in each of his last 11 games of the year.
The Venezuelan countryman has three years of service at the Major League level. He broke into the big leagues with the Yankees in 2015 as a 23 year-old. There, the Flores recorded seven hits over 12 games before he was traded along with Jose Ramirez to the Seattle Mariners at the trade deadline for Dustin Ackley. He was traded again in the ensuing offseason from the Mariners to the Milwaukee Brewers.
Flores enjoyed his best season in the majors in 2016 with the Brewers. That year, Flores recorded 51 hits, eight doubles, two home runs and 19 stolen bases over 104 games. He made it back up to the majors again in 2017 and played three games with the Los Angeles Angels of Anaheim.
"We are proud to announce that Ramon will be joining us again this season," said Somerset Patriots manager Brett Jodie. "Ramon is a true professional hitter. He is extremely smart at the plate, has great pitch recognition and a good understanding of the strike zone. Ramon is one of those guys that you feel will get a hit every time he steps up to the plate. He also plays a good outfield and possesses a strong arm. We are looking for big things out of 'Flo' this year."
Flores originally signed with the Yankees as a 17 year-old in 2009 and rose through the ranks thanks to a couple of notable seasons. He hit .302 with six home runs, 39 RBI and 24 stolen bases as a 20 year-old with High-A Tampa in 2012. Flores also impressed in 2015 with Triple-A Scranton/Wilkes-Barre by hitting .286 with seven home runs and 34 RBI.
His most productive season in professional baseball came in 2017 with Triple-A Salt Lake in the Angels organization. There, Flores hit .312 with 10 home runs, 71 RBI and 12 stolen bases over 115 games before his promotion to the Angels.
Flores has played exclusively in the Atlantic League or at the Triple-A or Major League level stateside in each of his last four seasons.
The Somerset Patriots will be back in action on Friday, April 26th for Opening Day at TD Bank Ballpark. Stay up to date on all the team news throughout the offseason online; on all of our social media platforms, and on our mobile app. For more information, visit www.somersetpatriots.com.
About the Atlantic League of Professional Baseball (ALPB)
With eight teams in the Mid-Atlantic and Texas, the ALPB is a leader in baseball innovation and a player gateway to Major League Baseball. Through its exclusive partnership with MLB, the Atlantic League tests Major League Baseball rules and equipment initiatives. The Atlantic League has sent over 900 players to MLB organizations while drawing more than 40 million fans to its affordable, family-friendly ballparks throughout its 22-year history.
For more information, please visit www.atlanticleague.com
Your Thoughts
comments