School District Honors Teachers, Educational Professionals, Of The Year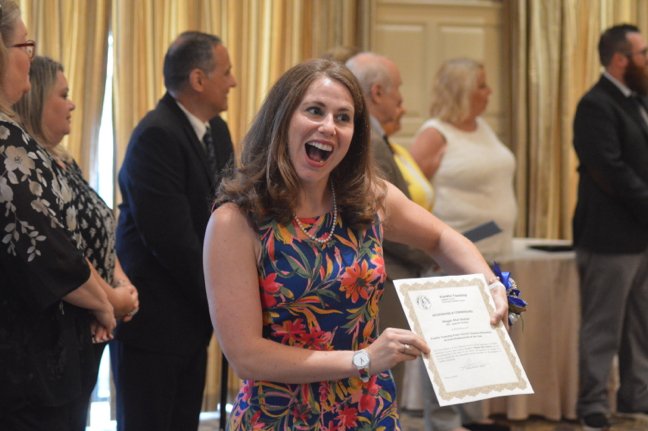 ---
Twenty teachers and educational service professionals were honored May 23 for being the best in the district at what they do.
The Teachers of The Year and Service Professionals of The Year were acknowledged during a breakfast at The Imperia on Easton Avenue.
Building principals or their proxies introduced the winners and briefly described why they were being honored.
Also speaking at the event were Board of Education president Nancy LaCorte and Mayor Phil Kramer.
"I've had some wonderful teachers in my life and my children have had some wonderful teachers, and for that I thank you so much," LaCorte said.
"Because of you, we are able to have such a great relationship with the kids and be able to provide the programs that I am so proud of that we're able to give to the kids," she said. "When teachers present a curriculum, they're so excited about what it's going to do and what it's going to look like that it gets us so excited to go to our meetings and approve the curriculum, we know that it's going to make a difference."
Kramer came with Township Council commendations for each of teh teachers and professionals honored. He chose to give the first one to a nurse, Mayra Rivera of Pine Grove Manor Elementary School.
A school nurse in his elementary school discovered that he was dyslexic, Kramer said.
"That was when dyslexia wasn't a thing," he said. "That absolutely changed my life. I got the education and training I needed through my school, and the rest is history."
"When I realized that had all happened, I said to my mother, I have to go talk to this woman," Kramer said. "Unfortunately she had died, so I never got to do that. So Mayra, thank you, for her. You both change people's lives."
Nick DiMeglio, chairman of the district's Parent Organizations Presidents' Council, also thanked those who were honored.
"Thank you for your efforts, thank you for your dedication, thank you for your optimism and thank you for inspiring our children," he said. "We entrust you with our children every day. You are asked to do so much and you're always not getting the recognition that you deserve."
"You are selfless givers and mentors to so many of us," he said. "You have a heart of compassion, encouragement and patience."
"Continue to share your leadership, your skills and your abilities with your colleagues and students to inspire them to excellence," DiMeglio said.
Those honored, in order of teacher and education professional, were:
Maggie Muir-Shylock and Chance Summerer, Franklin High School
Nicole Monfasani and Thomas McLaughlin, Franklin Middle School – Hamilton Street Campus
Carminda Bandiera and Barbara Klinck, Franklin Middle School – Sampson G. Smith Campus
Beth Osipowitz and Theresa Ferrigno, Claremont Elementary School
Cyncy Normart and Abbe Levine, Conerly Road School
Tina Wojtowicz and Terri Giorgianni, Elizabeth Avenue School
Chelsea Baakman and Disha Hinduja, Franklin Park School
Lindsay Sheffrin and Cindy Jimenez, Hillcrest School
Wilma Rosikiewicz and Caroline Powell, MacAfee Road School
Jillian Noble and Mayra Rivera, Pine Grove manor School
The Franklin Reporter & Advocate live streamed the breakfast:
Here are some scenes from the day:
Your Thoughts
comments