School District 'Educators Of The Year' Honored At Annual Breakfast
---
The school district's educators of the year were honored May 24 in an annual breakfast held at the Imperia on Easton Avenue.
Each of the district's eight schools were represented by a teacher of the year and an educational services professional of the year.
Introductions were made by building principals, and the awards were handed out by Board of Education president Nancy La Corte.
This is the third year the district has honored educators of the year with a breakfast.
Educators receiving awards were:
Pine Grove Manor School
Jodi Dawson, 2nd Grade Teacher
Ms. Dawson has worked for the district and at PGM for 11 years.  She has been a kindergarten and 2nd grade teacher.  She recalls pretending to be a teacher as a child and uses the phrase, "Make It Happen" to motivate her students.
Julie Ginsberg Ferraro, Paraprofessional
Ms. Ginsberg Ferraro has worked in the education field for 23 years, the last 10 years with our district.  She chose this profession because she wanted to make a difference in children's lives.
MacAfee Road School
Marisa Saucedo, Kindergarten Teacher
Ms. Saucedo began her work with our district as a student teacher. After a brief time working in Spain, she returned to MacAfee Road School and has been a teacher there for 4 years.  She calls teaching a creative career.
Lindsay Kerzner, Speech Language Specialist
Ms. Kerzner has been a speech language specialist for 5 years, the last 3.5 years at EAS and now MAC.  Her mother and aunt inspired her to choose this "helping profession" and to work with children.
Hillcrest School
Karen Merlini, Pre-K Teacher
Ms. Merlini began as a district librarian 19 years ago and has held teaching positions in several schools.  She comes from a family of teachers and loves the teaching profession as it allows you to change the world in a positive way.
Aminta Machuca, Paraprofessional
Ms. Machuca has worked with in the field of education for 25 years, the last 13 years as a paraprofessional at Hillcrest School in grades Pre-K – 4. She seeks to help her students become good citizens.
Franklin Park School
Courtney Collins, Kindergarten Teacher
Ms. Collins is an alumni of our district, Grades K-12 – FHS Class of 2006.  As kindergarten teacher at FPS for 5 years, she feels lucky to be able to give back to the district where she was taught.
Lori Gross, Language Arts Literacy Coach
Ms. Gross has worked in education for 38 years, the last 11 for our district.  Her kindergarten teacher served as her inspiration.  As a former teacher, now academic coach, she helps staff to realize their own potential as educators.
Elizabeth Avenue School
Tara Brocco, Kindergarten Teacher
Ms. Brocco began her teaching career in our district 5 years ago. She tries to make students feel secure in their environment and teaches them it is okay to make mistakes.  She encourages hands-on learning, even if it "gets messy."
Nancy Santiago, Paraprofessional
Ms. Santiago has worked at EAS for 12 years, first as a duty aide and then a paraprofessional.  She credits her role as Mom and Grammy as inspiring her love for children and helping her to choose this occupation.
Conerly Road School
Jean Magyar, 2nd Grade Teacher
Ms. Magyar has been teaching in the district for 10 years in various grades.  She enjoys working with elementary students because they make interesting connections between what they know and what they are learning.
Katerina Moulinos, Academic Support Teacher
Ms. Moulinos has been a teacher at both Franklin Park School and Conerly Road School.  She enjoys guiding children and considers it a great honor and responsibility to play such an important role in a child's life.
Sampson G. Smith School
Jill Santoni, 5th Grade Teacher
Ms. Santoni has been a 5th grade teacher for 9 years, the last 7 in our district.  She specializes in Language Arts Literacy and Social Studies. She seeks to provide a better educational experience for her students than she had as a child.
Ted Samaras, Instructional Technology Coach
Mr. Samaras began his career in the district 12 years ago as a computer teacher.  Since 2010, as a Coach, he has strengthened our teachers' use of technology in the classroom.  He also serves as the web curator at EAS.
Franklin Middle School
Holly Harris Vadell, 7th Grade Science/Special Ed. 
Ms. Harris Vadell came to our district with a variety of content area and grade level experience.  She currently teaches 7th grade and is involved in many committees. A favorite quote by Maya Angelou, is simple, "just do right."
Paula Jara, Paraprofessional
Ms. Jara, a longtime Franklin resident, attended our district schools, as did her siblings and children.  Inspired to succeed by a former teacher, Ms. Jara considers every day that she works with her special needs students "a true gift."
Franklin High School
Linda Puglio, Special Education Teacher
A Special Education teacher for 34 years, Ms. Puglio has worked at FHS for the past 23. She also works with students in our alternative program.  She has taught a wide variety of subjects and currently teaches Physics and Chemistry.
Linda Porter, Media Specialist
After some time spent in the corporate world, Ms. Porter began her work for the district 18 years ago. She started as a substitute before finding the "perfect fit" in her position as Media Specialist at Franklin High School.
The Franklin Reporter & Advocate was on hand to live stream the event.
A brief description of the awards from schools Superintendent John Ravally:
The awards presentation:
The school district's Educators of the Year awards breakfast at the Imperia on Easton Avenue.

Posted by The Franklin Reporter & Advocate on Thursday, May 24, 2018
Here are some stills of the educators receiving their awards: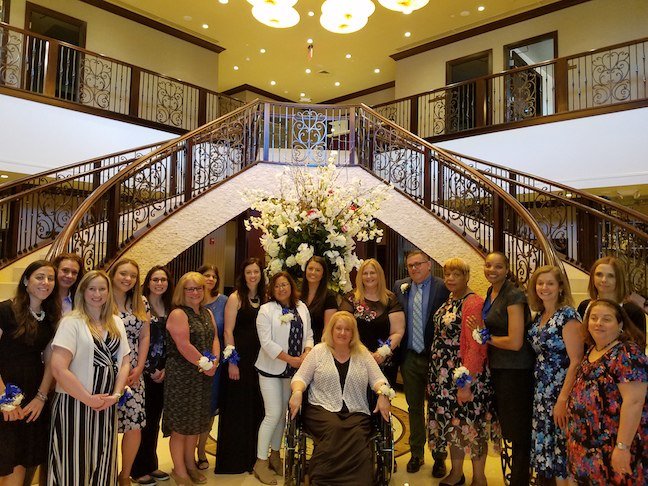 Your Thoughts
comments