Patriots Win Over Bluefish 4-2 In 10 Innings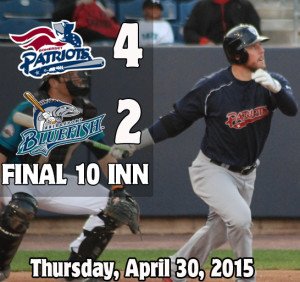 Bridgeport, CT – The Somerset Patriots (3-3) rallied past the Bridgeport Bluefish (3-3) 4-2 in 10 innings on Thursday evening from Harbor Yard. Somerset was being no-hit the first six innings but was able to salvage the series finale and snap their three game losing streak.
In the bottom of the third inning center fielder Nick Van Stratten slapped a RBI single to give Bridgeport a 1-0 advantage.
First baseman Andres Rodriguez hit a RBI infield single to increase the Bluefish lead to 2-0 in the bottom of the sixth inning.
Right fielder Scott Cousins roped a RBI single in the top of the eighth inning to cut the deficit in half at 2-1.
The Patriots rallied to tie the contest at 2-2 in the top of the ninth inning as left fielder Chris Marrero recorded a RBI single.
Somerset grabbed the lead in the top of the 10th inning as pitcher Matt Iannazzao hurled a wild pitch that led to a run, and Marrero tallied another RBI single to make the contest 4-2 which would be the final.
Kyler Newby (2-0) earned the win in relief. Iannazzo (0-1) sustained the loss in relief. Andrew Carignan notched the save (1) striking out the side in the home half of the 10th inning.
The 2015 Somerset Patriots season presented by Ford will continue tomorrow night the Patriots return to TD Bank Ballpark for a 7:05 p.m. game against the York Revolution. For tickets, call 908-252-0700 or visit www.somersetpatriots.com.
Your Thoughts
comments