Patriots Win Back-And-Forth Battle Over Skeeters 11-9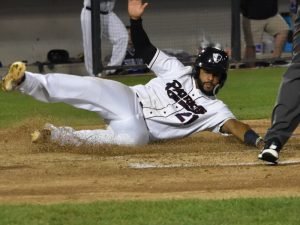 Bridgewater, NJ- The Somerset Patriots (23-19, 58-47) defeated the Sugar Land Skeeters (28-13, 69-35) 11-9 at TD Bank Ballpark on Thursday evening.
Tied up 9-9 in the bottom of the eighth inning, Somerset reclaimed the lead in the back-and-forth contest on a two-run double by Flores, who finished the game 4-for-5 with four RBI.
The Patriots started the game with an early 2-0 lead on an RBI single by Craig Massey in the first inning and an RBI triple by Mike Fransoso in the second inning
The Skeeters tied up the ballgame in the top of the third inning on an RBI double by Anthony Giasanti and a passed ball before taking the lead in the next inning on an RBI single by Javier Betancourt.
Somerset rallied for three runs in the bottom of the fourth inning to take the lead on an RBI double by Flores, a passed ball, and an RBI single by Alfredo Rodriguez that made the score 5-4.
Dennis Phipps' RBI single and a run-scoring wild pitch put the Skeeters back in front 6-5 in the top of the fifth inning.
In the sixth inning, Sugar Land made it a 7-5 game on an RBI double by Derek Norris.
The Patriots answered right back with three runs in the bottom of the frame on a bases loaded walk to Rodriguez and RBI singles by Massey and Flores for an 8-7 lead.
The Skeeters tied the game again in the seventh inning on a solo home run by Phipps (8).
Justin Pacchioli's RBI single in the bottom of the seventh inning put Somerset back in front 9-8.
Sugar Land came right back in the eighth inning on an RBI single by Norris that knotted the game up at 9-9.
Logan Kensing (3-3) picked up the win, allowing a run on two hits in an inning pitched. Derrick Loop (0-1) took the loss, allowing two runs on four hits in an inning pitched. Ryan Kelly earned his 18th save of the season with a scoreless ninth inning pitched.
The 2018 Somerset Patriots Season presented by Ford will continue on the road until Tuesday, August 28th when the team returns to TD Bank Ballpark to take on the Road Warriors at 7:05 pm. The game features Bark In The Park Night. For tickets, visit www.somersetpatriots.com.
Your Thoughts
comments