Patriots Top Revolution 12-9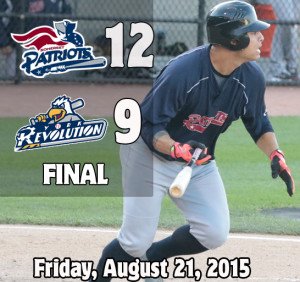 York, PA – The Somerset Patriots (22-19, 72-39) defeated the York Revolution (22-18, 46-64) 12-9 Friday evening at Santander Stadium.
In the bottom of the first inning designated hitter Andres Perez slugged a two RBI double to give York a 2-0 advantage.
The Patriots batted around in the top of the third inning to plate four runs and grab a 4-2 lead. The initial run scored when pitcher Rommie Lewis hurled a wild pitch scoring second baseman Nate Spears. Then Somerset received a RBI single by shortstop Robert Andino and a two RBI double by designated hitter Mike Wilson.
First baseman James Skelton ripped a RBI double in the top of the fourth inning to expand Somerset's lead to 5-2.
Somerset tacked on three more runs in the top of the sixth inning to make the score 8-2. Center fielder Jonny Tucker socked a RBI triple, Andio poked a RBI single and left fielder Aharon Eggleston recorded a RBI ground out.
The Revolution cut the deficit to 8-3 in the ensuing half inning as right fielder Brandon Boggs ripped a RBI single.
In the top of the seventh inning the Patriots erupted for four runs to increase their lead to 12-3. Catcher Adam Donachie was hit by a pitch with the bases loaded, Skelton slapped a two RBI single and Spears hit a RBI ground out.
York had a late bottom of the ninth rally as they scored six times to make the contest 12-9 which would be the final. Both left fielder James Simmons and center fielder Jose Costanaza drew bases loaded walks while third baseman Wilson Valdez hammered a grand slam (1).
Will Oliver earned the win (2-1) tossing seven innings while surrendering three runs. He struck out eight. Lewis endured the loss (9-9) hurling 5.1 innings while giving up eight runs.
The 2015 Somerset Patriots season presented by Ford will continue on the road until the Somerset Patriots return to TD Bank Ballpark for a 7:05 p.m. game against the Sugar Land Skeeters on Monday, August 24th. For tickets, call 908-252-0700 or visit www.somersetpatriots.com.
Your Thoughts
comments