Patriots Power Past Ducks 7-4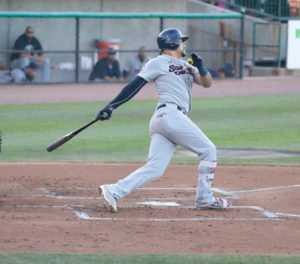 Central Islip, NY – David Vidal, Aharon Eggleston, and Eric Farris all blasted home runs as the Somerset Patriots (16-17, 54-49) powered their way to a 7-4 victory over the Long Island Ducks (18-13, 58-43) Wednesday evening at Bethpage Ballpark. All seven runs occurred with two outs.
"Right now everything is a grind," said Eric Farris who leads the team in games played with 97. "It seems like every night is a close contest and we just have to scrap and battle to get these wins. We have a tough team."
Vidal cranked a two-run home run (17) in the first inning to give the Patriots a 2-0 advantage. It was the sixth time in the last seven games that Somerset scored at least one run in the first inning. Vidal is now tied for the league lead in home runs with Sean Halton of Lancaster.
Long Island scored three unanswered runs to take a 3-2 lead after four frames. The Ducks capitalized on a fielding error in the second inning to plate a run. In the fourth inning Long Island received RBI doubles from both Ruben Gotay and Mike Dowd.
Somerset answered in the top of the fifth inning. After Dan Lyons couldn't turn a double play ball, the inning extended for Eggleston. The fourth year Patriot socked a two-run home run (6) to put the Patriots in front 4-3.
Carlos Guzman ripped a two RBI double in the top of the sixth inning to stretch the visitors lead to 6-3. Guzman has reached base safely in 16 of 26 plate appearances during the road trip.
Mike Blanke tallied an RBI sacrifice fly to cut the deficit to 6-4 in the bottom of the sixth inning.
The Patriots got an insurance run as Farris hit a home run (5) to make the contest 7-4 which would be the final.
Long Island would threaten in the eighth inning, but reliever Brandon Sisk survived a bases loaded, one out jam.
Rudy Owens (3-3) earned the win, yielding four runs in 5.1 innings of work. Eury De La Rosa (3-4) sustained the loss, giving up four runs in 5.0 innings of work. Jon Hunton pitched a perfect ninth inning to notch the save (17). Hunton is 20-for-21 in save opportunities since May 21st.
The 2016 Somerset Patriots season presented by Ford continues on the road until the team returns to TD Bank Ballpark for a 7:05 p.m. game on Friday, August 12th against the Southern Maryland Blue Crabs. For tickets, call 908-252-0700 or visit www.somersetpatriots.com. Download our Mobile App for free in the Apple or Android App store.
Enter My Rewards Code: cardinals7 in the Official Somerset Patriots App
Your Thoughts
comments