Patriots Crush Riversharks 12-3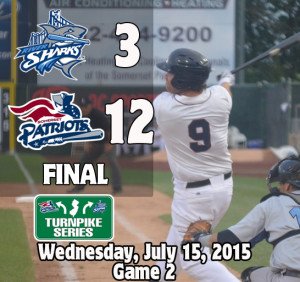 Bridgewater, NJ – The Somerset Patriots (4-3, 54-23) defeated the Camden Riversharks (1-6, 29-48) 12-3 Wednesday evening at TD Bank Ballpark in game two of a day-night doubleheader. The Patriots completed the doubleheader sweep as Somerset won game one 3-2 in 12 innings.
In the top of the second inning catcher Jose Gil slugged a home run (5) to give Camden a 1-0 advantage.
Shortstop Robert Andino hammered a two run home run (3) to give the Patriots a 2-1 lead in the bottom of the second inning.
The Riversharks plated a pair of runs to take a 3-2 lead in the top of the third inning as first baseman Joel Guzman sliced a two RBI single.
The Patriots erupted for five runs as they batted around in the bottom of the third inning to make the score 7-3. Somerset received RBI singles from catcher David Vidal, third baseman Greg Hopkins and right fielder Nate Spears while designated hitter Mat Gamel socked a two RBI double.
Somerset scored three more times in the bottom of the fourth inning as two came across on a throwing error by shortstop Michael Rockett and another crossed home via a RBI fielder's choice by Gamel as the score became 10-3 in favor of the Patriots.
Left fielder Aharon Eggleston sprayed a two RBI double as Somerset added to its lead in the bottom of the fifth inning as the score improved to 12-3.
Matt Zielinski earned the win (5-1) tossing a complete game allowing just three runs. Sean Gleason suffered the loss (5-8) giving up 10 runs in four innings of work.
The 2015 Somerset Patriots season presented by Ford will continue tomorrow tonight as the Somerset Patriots remain at TD Bank Ballpark for a 7:05 p.m. game against the Camden Riversharks. For tickets, call 908-252-0700 or visit www.somersetpatriots.com.
Your Thoughts
comments