Life Story: Marian Roth, Lifelong Township Resident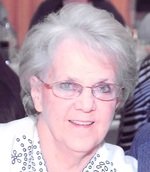 Marian Roth passed away Dec. 9 in Somerset.
Born in New Brunswick to Walter and Goldie Klinger, Marian was a lifelong resident of Franklin Township. Taught at a young age to sew, she became a masterful seamstress who handmade beautiful garments, particularly hand-knit slippers, for so many of her family members and friends.
A compassionate and generous woman, Mrs. Roth volunteered for many years at the Parker Home in New Brunswick, tending to residents and assisting the staff. A loving and nurturing wife, mother, grand- and great-grandmother, she cherished nothing more than time spent with her family.
Mrs. Roth was predeceased by her brother, Walter Klinger, and her sisters Margaret Mento and Barbara Easton. She is survived by her devoted husband of 62 years, Raymond Roth; by their children, Raymond Roth Jr. and his wife Mary, Dale Roth and wife Sue, Kimberly Knapp and husband Michael, Dorothy LaSala and husband Charles, and David Roth and wife Jeanette; by her 13 grandchildren, Kelly, Heather, Tiffany, Dale Jr., Kaleigh, Kimberlee, Megan, Michael Jr., Keiler, Dallas, Charles IV, Dean, and Jessie; by her 4 great-grandchildren Logan, Gunnar, Azalea, and Soren; by her sister, Dorothy and brother-in-law Calman Szekeres; and by a host of nieces, nephews, neighbors, and friends.
Visitation will be from 2-4 p.m. and 7-9 p.m. Dec. 12 at the Gleason Funeral Home, 1360 Hamilton St. Somerset. The funeral will begin at 11 a.m. Dec. 13 at the funeral home, followed by burial in Cedar Grove Cemetery in Somerset.
In lieu of flowers please consider a contribution to the American Diabetes Association at www.diabetes.org.
Your Thoughts
comments