Life Story: David Earley, 65; Data Consultant, Assistant Scout Master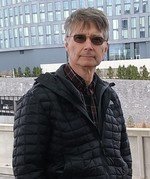 David Earley of Somerset passed away suddenly but peacefully at home on August 31. He was 65 years young.
Pre-deceased by his parents, Francis Joseph and Margaret Earley (Welsh), David is survived by his loving wife of 22 years, Rosemarie Earley, originally from Ireland, and his beloved son David of Somerset. He is also survived by his big sister Sharon Kinney and her husband Frank of Connecticut and their children Caroline, Catharine Brooke, Casey and his wife Nina and his Aunt Marie Blackwell and his many cousins.
Born in Waverly, NY, David resided in Melrose, Massachusetts graduating from Melrose High School where he excelled at swimming, tennis, Tae Kwon Do and amateur dramatics. With a keen interest in truth and fair-mindedness, David participated competitively on the debate team.
In his youth, David was an active volunteer on a number of mission trips building houses for underprivileged local communities in India and South America with Habitat for Humanity run by his local church youth group.
Graduating in Economics from Bowdoin College in Brunswick, Maine, David went on to receive many technology certifications, being most proud of the elusive Qlikview and Qliksense certifications. David's career as a Data Consultant included working with technology companies Ciber Inc. for 25 years, and more recently Infozone and KPMG.
A former Boy Scout, David shared his son's involvement with Troop 113 in Somerset and went on most of the camping trips, serving for a time as Assistant Scout Master. He said some of his proudest moments as a dad were David's achievements from Cub Scout through to the rank of Eagle Scout.
David enjoyed skiing and golfing for a time, but had a passion for hiking and exploring new places. His latest exploration with wife Rosemarie was hiking the Bright Angel Trail and camping at Indian Gardens at the base of the Grand Canyon, recently re-visiting Dublin, Ireland and exploring London to reminisce a family trip from his youth.
David is also survived and deeply loved by his family-in-laws in Ireland. Margaret Kennedy (mother-in-law), sisters and brothers-in-law, Therese, Peggy, John, Philip, James, Yvonne and Tina. Also, their children and partners Andrew and Michael, Matthew and Lauren, Aaron, Philip, Jennifer and Freddie, Hannah and Rodo, and Alice and his great nieces and nephews, Aidan, Tylor, Luca, Norah and Alex.
Endeared by extended family, friends and acquaintances, David enriched our lives with his subtle humor that made us laugh and his ability to connect in personal one-to-one conversations.
A memorial service will be held on September 7 at 10:30am to 12:30pm at Gleason Funeral Home, Hamilton Street, Somerset. Friends and family are welcome, with family in attendance from 10:30am.


Your Thoughts
comments