FHS Winter Cabaret Set For The Weekend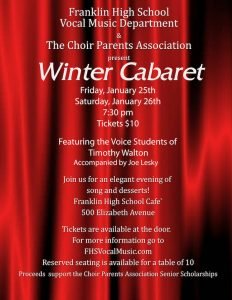 The annual Winter Cabaret, featuring Franklin High School singers, is set for 7:30 p.m. on Jan. 25 and 26 at the high school, 500 Elizabeth Ave.
Sponsored by the FHS Vocal Music Department and the Choir Parents Association, the show features vocal students of Timothy Walton.
Tickets are $10 and are available at the door.
Participating in this year's cabaret, and the songs they will perform, are:
Bryce Grey- Wait for It from Hamilton
Richard Francese- Donny Novitski from Bandstand
Alex Parrone- Pretty Funny- Dogfight
Maleah Moon- A Piece of Sky from Yentil
Joshua Johnson- Corner of the Sky from Pippin
Kaitlyn Timari- Pulled from The Adams Family
Akshay Gokul- I Love Betsy from Honeymoon in Vegas
Tedros Abera- Nobody Needs to Know from The Last Five Years
Avelyn Simons- Me and the Sky from Come from Away
Stephanie Diaz- On My Own from Les Mis
Kayla Bullock- Never Enough
Marcus Ramos- I Chose Right from BABY
Jillian Silva- Lying There from Edges
Arielle Heimberg- Out here on my own from Fame
Kachi Nwanonyiri – Still as the Night
Leslie Baez- In My Dream from Anastasia
Jacob Robinson- If I Sing from Closer Than Ever
Britanny Erskin- A Million Dreams from The Greatest Showman
Avani Reed- Turning Tables
Lauren Tragale- Gravity
Yusef Cole-Where's the Girl from The Scarlet Pimperpel
Hope Steinbruck- Original Piece
Your Thoughts
comments