Barnstormers Top Patriots 3-2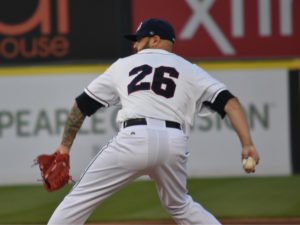 Bridgewater, NJ-   The Lancaster Barnstormers (29-22, 67-54) defeated the Somerset Patriots (23-27, 65-55) 3-2 at TD Bank Ballpark on Monday evening.
The Barnstormers took a 1-0 lead in the second inning on a passed ball that allowed Sean Halton to score.
Somerset answered with a run on a Carlos Guzman RBI single in the fifth inning to tie the game up 1-1.
The Patriots took the lead in the bottom of the seventh inning on an RBI single by Alfredo Rodriguez.
Lancaster scored two runs to regain the lead in the top of the eighth inning on an RBI single by Halton and a sacrifice fly by Nate Coronado.
Joe Gardner (1-3) picked up the win, allowing two runs (one earned) on seven hits in seven innings pitched. Will Oliver (5-6) suffered the loss, allowing three runs (two earned) on six hits and nine strikeouts over eight innings of work.   Anthony Carter earned his 27th save of the season.
"I thought Will pitched a real good game tonight," said Somerset Patriots manager Brett Jodie. "He was cruising out there for a while and kept his pitch count low. They battled through a few at bats to take the lead. We had a few opportunities to score, but just couldn't get it done."
The 2017 Somerset Patriots Season presented by Ford will continue at home on Tuesday night with a 7:05 pm game against the Lancaster Barnstormers. The game features Star Wars Night. For tickets, visit www.somersetpatriots.com.
Your Thoughts
comments