Barnstormers Rally Past Patriots 7-6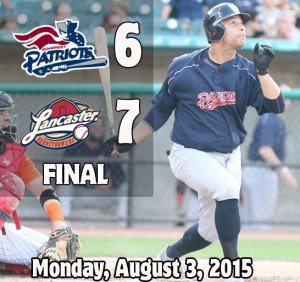 Lancaster, PA- The Lancaster Barnstormers (16-8, 44-50) defeated the Somerset Patriots (15-10, 65-30) in walk-off fashion 7-6 Monday evening at Clipper Magazine Stadium. Closer Jon Hunton blew his first save since June 17th as he had converted 15 straight save opportunities until tonight when he surrendered two runs in the final inning.
In the top of the first inning left fielder Aharon Eggleston smacked a home run (4) to give Somerset a 1-0 advantage.
Lancaster tallied the equalizer in the ensuing half inning as center fielder Zach Collier crushed a home run (4) to make the score 1-1.
Shortstop Lance Zawadzki hammered a two run home run (13) in the bottom of the second inning to give the Barnstormers a 3-1 lead.
The Patriots tallied a pair of runs in the top of the third inning to even the score at 3-3 in the top of the third inning. Catcher Adam Donachie pounded a RBI double while third baseman David Vidal recorded a RBI fielder's choice.
Shortstop Robert Andino poked a go ahead RBI single in the top of the fourth inning to put Somerset back in front 4-3.
The Barnstormers received a home run (6) from second baseman Luke Hughes in the home half of the sixth inning to even the contest at 4-4.
Eggleston stroked a go ahead two RBI single in the top of the seventh inning to give the Patriots a 6-4 lead.
The deficit for Lancaster was cut in half in the bottom of the seventh inning when first baseman Mike McDade recorded a RBI ground out as the score dwindled to 6-5.
Lancaster plated a pair of runs in the bottom of the ninth inning as Collier smashed a home run (5) and left fielder Kent Matthews ripped a walk-off RBI double making the score 7-6.
Marcus Walden earned the win (1-4) in relief. Hunton blew the save and suffered the loss (1-2).
The 2015 Somerset Patriots season presented by Ford will continue on Thursday, August 6th when the Somerset Patriots return to TD Bank Ballpark for an 11:05 a.m. game against the Camden Riversharks. For tickets, call 908-252-0700 or visit www.somersetpatriots.com.
Your Thoughts
comments