Andrew 'Andrzej' Dzwolak, 77; Former Somerset Resident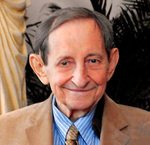 With great sadness we announce the passing of Andrew Dzwolak. Born September 24, 1940, he passed away peacefully on December 10, 2017 at Morristown Medical Center, Palliative Care unit. He was 77.
Andrew was born in Zawada, Poland and attended Polytechnic of Gdansk to study Mechanical Engineering. He lived in Poland until 1974 and spent the rest of his life in New Jersey: Bridgewater, Elizabeth, Somerset and most recently, Monmouth Junction. Andrew worked for Egan Machinery in Somerville, Hoechst Celanese in Branchburg, and Merck in Rahway, from where he retired in 2005.
Andrew was an energetic and athletic young man who loved riding motorcycles! Andrew was very social and treasured his many friends. He loved music, reading, dancing and playing soccer as a goalie! Andrew had a passion for fishing and loved deep sea fishing with his only son, Michael and his former colleagues from Merck.
Andrew is predeceased by his parents, Maria and John Dzwolak. He is survived by Zophia Karwowska, her daughter, Joanna Karwowska, his son, Michael Dzwolak and his wife, Christine Dzwolak, his sister, Theresa Kuncewicz, his niece, Barbara Ginet, 2 grandchildren, Devin and John Dzwolak and a nephew, Adam Corso.
Visitation will be held from 3-6 p.m. Dec. 17 at Gleason Funeral Home, 1360 Hamilton St., Somerset.
Mass of Christian burial will begin at 9 a.m. Dec. 18 at St. Matthias Church in Somerset.
In lieu of flowers, please consider making a donation to the NJ Organ & Tissue Sharing Network, 691 Central Avenue, New Providence, NJ 07974. www.njsharingnetwork.org
Your Thoughts
comments