Somerset Patriots To Host Revolutionary Spirit Night On June 14th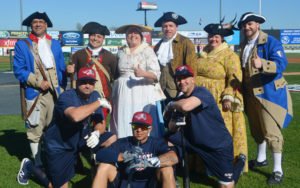 Bridgewater, NJ- The Somerset Patriots have announced that they will host Revolutionary Spirit Night on Tuesday, June 14th. First pitch at TD Bank Ballpark against the York Revolution is scheduled for 7:05 p.m., with gates opening at 6:00 p.m.
The Somerset Patriots have partnered with Crossroads of the American Revolution to present the first ever Revolutionary Spirit Night at the ballpark. The night – falling on Flag Day – will feature an atmosphere celebrating the local tie to Revolutionary War history.
Outside of the ballpark, the New Jersey 2nd Regiment will have an encampment set up with a Revolutionary War cannon demonstration presented by Ira Jersey and Frank McGonigle. Outwater's Militia will also interact with fans and have a musket fire and drills.
The first 500 kids to enter the ballpark will receive patriotic flags. Once inside, concourse tables will line the ballpark, offering interactive demonstrations, giveaways, brochures, colonial games and history lessons to illustrate the area's local tie to the Revolutionary War. Local historical societies and museums will be present, with war re-enactors, soldiers and volunteers dressed in time-specific attire.
The Heritage Trail Association and Middlebrook Theatrical Society will be present, along with the Fife and Drums of the Old Barracks both inside and outside the ballpark. In addition, there will be a special flag presentation from the Heritage Trail to the Patriots, along with an honorary color guard before the game.
Additionally, there will be an appearance from General George Washington!
For more information on Crossroads of the American Revolution, visit their website www.revolutionarynj.org. To purchase tickets to the game, visit www.somersetpatriots.com or call (908) 252-0700.
The 2016 Somerset Patriots Season Presented By Ford is underway. For more information or to purchase tickets for the 2016 season, stop by TD Bank Ballpark, call (908) 252-0700 or visit www.somersetpatriots.com.
About the Atlantic League of Professional Baseball (ALPB)
The Atlantic League has been a leader in professional baseball and a gateway to Major League Baseball since 1998. Over 34 million fans have attended Atlantic League games and more than 800 players and 50 managers and coaches have joined MLB organizations directly from the ALPB.  The Atlantic League emphasizes winning baseball games, showcasing the talent of top-caliber players and offering affordable family entertainment to metropolitan markets serving nearly 15% of the US population.
For more information, please visit www.AtlanticLeague.com
Your Thoughts
comments