Somerset Patriots And Brett Jodie Announce Their 2017 Coaching Staff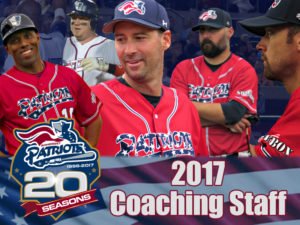 Bridgewater, NJ- The Somerset Patriots and manager Brett Jodie have announced the return of Third Base/Hitting Coach Glen Barker, Pitching Coach Cory Domel, coach Fox Beyer, and the signing of the team's first ever player/coach Adam Donachie for the 2017 season.
Barker enters his second season as the Third Base/Hitting Coach in Somerset. Under his tutelage last year, the Patriots as a team led the Atlantic League in runs (694), walks (528), stolen bases (166) and on-base percentage (.349). Additionally, the team finished third in the league in batting at a .272 clip.
Barker played in 235 games for the Houston Astros from 1999 through 2001. In 1999, Barker hit .288 with 23 runs scored, 21 hits, two doubles, a home run, 11 RBI and 17 stolen bases in 81 games played.
"Glen really brought a lot to our club with his overall knowledge in many aspects of the game," said Somerset Patriots manager Brett Jodie.   "Glen was not only a good hitting coach, but he was very helpful with base running, outfield play, and positioning.
Barker was originally drafted in the 11th round of the 1993 MLB draft by the Detroit Tigers. He spent six seasons in the organization before joining the Astros in 1999. His minor league career also included time in the Boston Red Sox and Baltimore Orioles organizations.
For his minor league career, Barker had 430 runs scored, 656 hits, 113 doubles, 31 triples, 37 home runs, 262 RBI and 236 stolen bases.
In 2003, Barker briefly joined the Somerset Patriots for three games before signing with the Orioles. He is still tied for a team record for triples in a game (2) for his performance on May 23, 2003.
"Glen was able to relate to the guys because of his experiences at many different levels and leagues as a player and coach of baseball. We expect a lot from Glen and know he welcomes the challenge his position brings," Jodie added.
Domel will be entering his fifth season as pitching coach for the Somerset Patriots. Last season, Domel's pitching staff led the league in wins (77), walks allowed (361), WHIP (1.29) and opposing batting average (.256) and finished second in strikeouts (1080) and team ERA (3.90).
Under his guidance, the 2015 championship team led the league with a 3.04 ERA. The team finished third in the league with a 3.48 ERA in 2014 and second in the league in 2013 with a 3.61 ERA.
"Cory has done a tremendous job for our organization over the past four years. He puts in tireless hours scouting opposing teams and figuring out how to make his pitching staff better.   The pitchers truly love Cory and he is always ready and available to work with all of them," Jodie said.
Before joining the Patriots in 2013, Domel was the pitching coach for the Amarillo Sox of the American Association during the 2012 season and spent four seasons in the Frontier League.
In 2011, he was the pitching coach for the Windy City ThunderBolts. Prior to that, Domel spent three seasons in the same position for the Midwest Sliders and Oakland County Cruisers.
"Domel takes pride in getting to know each of his guys and works with them to maximize their potential.   He is someone I can personally trust and I greatly respect him and his opinions," added Jodie.
Beyer comes back for his tenth season as a volunteer assistant coach for the Somerset Patriots.
He spent parts of three seasons filling the same position in the Washington Nationals and Philadelphia Phillies organizations- both at the Double-A level.
"Fox is such a joy to have on our staff. He does an extraordinary amount of things for our organization and does not want credit.   Fox is one of the most genuine, kind hearted, caring people I know. I lean on him throughout the season and he brings sound advice, clarity in situations, and an unbelievable knowledge of the game," Jodie remarked.
Donachie returns to the Somerset Patriots after a year as a coach for the Nexen Heroes in the Korea Baseball Championship in 2016.
He now enters his fifth season with the Somerset Patriots (first as a player/coach) and fifth in the Atlantic League.
"I think everyone knows how excited I am to have Adam back as a player. We are also thrilled to have him help us out with the coaching aspect of the game. Donny truly knows what it means to be a Somerset Patriot. He knows how special it is and everything it encompasses," said Jodie.
In 2015, Donny played in 87 games as Somerset's primary catcher and hit four home runs with 40 RBI. He also recorded two RBI in the postseason en route to the Patriots' Atlantic League record sixth championship.
The Winter Park, Florida native was a 2014 Atlantic League All-Star and Post Season All-Star. The 6'1" catcher finished that season with a .277 batting average, 34 runs scored, 67 hits, six doubles, nine home runs, and 45 RBI in 78 games played.
Donachie also appeared in 165 games with the Somerset Patriots across 2012 and 2013. Overall, he has hit .250 with 22 home runs, 147 RBI and 51 doubles over 330 games in his previous four seasons in Somerset.
"Adam is extremely knowledgeable about the game of baseball and is a winner. He will be able to share all of this with everyone around him and that is so valuable to all involved," added Jodie.
Tickets to the 2017 Somerset Patriots Season presented by Ford, which includes the team's 20th Anniversary and the Atlantic League All-Star Game at TD Bank Ballpark, are on sale now. For more information, stop by TD Bank Ballpark, call (908) 252-0700, or visit www.somersetpatriots.com.
About The Atlantic League of Professional Baseball (ALPB)
The Atlantic League has been a leader in professional baseball and a gateway to Major League Baseball since 1998. Over 36 million fans have attended Atlantic League games and more than 800 players and 50 managers and coaches have joined MLB organizations directly from the ALPB. The Atlantic League emphasizes winning baseball games, showcasing the talent of top-caliber players and offering affordable family entertainment to metropolitan markets serving nearly 15% of the US population.
For more information, please visit www.atlanticleague.com.
Your Thoughts
comments