Smithereens, Marshall Crenshaw, Help Raise Money For Franklin Food Bank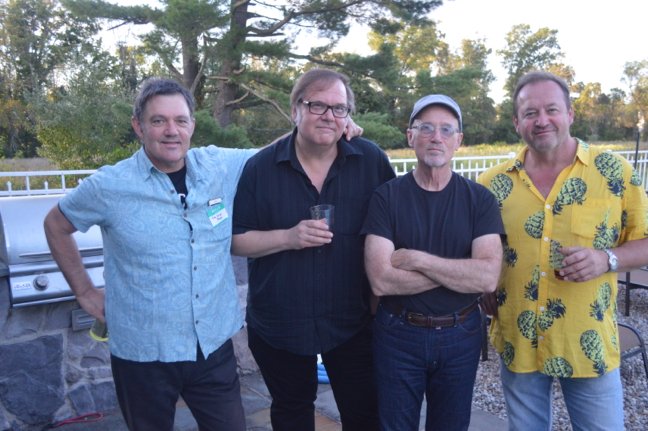 ---
In what its organizer hopes will become an annual event, a township farm resonated with the sound of rock 'n roll on Sept. 7 to raise money for the Franklin Food Bank.
The inaugural concert featuring the Smithereens with Marshall Crenshaw was donated by Ron and Diana Consiglio, and hosted on their Butler Road farm.
Attendees brought lawn chairs and blankets to settle in for the concert under the starry Autumn night. Opening for the Smithereens was Spare Tires.
Ron Consiglio said the idea to book the Smithereens came indirectly through Marshall Crenshaw.
"We were listening to Marshall Crenshaw one night, and we looked up to see what Marshall was up to and saw that he was playing with the Smithreens," he said. "I loved the Smithereens when I was in college, so we took the shot and called an agent, and they agreed to do it. It's insane."
Franklin Food Bank executive director Frank Hasner said he welcomed the opportunity for a new type of fundraiser.
"I always look at opportunities to have fun, get to know us and make money," he said. "Sounds real good to me."
"We couldn't get a better day, we have a wonderful crowd, people are going to know about the food bank and they're going to have fun and support the community. How could you go wrong?"
Hasner said the event raised at least $20,000. Also featured during the evening was a raffle for a guitar signed by the band members.
Hasner said that one of the largest contingents of people attending the concert came from the Bound Brook-Somerset Moose Lodge 988, headquartered on Hamilton Street.
"They do a wonderful job and are a great community organization," he said.
Dave Copperthwaite, the lodge's governor, said he and his members are always ready to help out the food bank.
"We support the food bank and when Frank came to us and said we're going to have a concert to benefit the food bank, we're in," he said. "We always help out the food bank when we can, either with monetary support or with food."
Crenshaw and the Smithereens said they're always willing to help out their community.
"I'm happy to be involved and glad we're able to help people by hopefully raising funds," he said. "It's good."
Smithereens guitarist Jim Babjak said the group has done events such as the food bank fundraiser throughout their 39-year career.
"You have to give back," he said.
"We all love to give back to the community, we love to play music and spread some joy and see people happy," drummer Dennis Diken said.
"You have to do things that give back to people, because it's people that enable you to have success in the first place," bassist Mike Mesaros said.
The Smithereens' original lead singer, Pat DiNizio, died in 2017. Since then the band has worked with various lead singers, including Crenshaw, who's been with them for about 14 months.
"I enjoy their music and I like the social parts of it," Crenshaw said of the arrangement. "It's been lots of fun. "
Mesaros said the original band members "have been lifted up" by Crenshaw and other singers who have performed with them.
Following are some scenes from the evening:
Your Thoughts
comments