She Did It Again! Lady Warrior Kennady Schenck Sinks Buzzer-Beater To Seal Perfect Season
---
Call her "The Heartbreaker."
For the second time in two years, Franklin High School's Kennady Schenck on Feb. 15 used buzzer-beating heroics to break the hearts of her opponents and snatch a meaningful victory for the Lady Warriors basketball team.
The first time came in 2017, when all the then-freshman did was grab a rebound and sink a corner shot that broke a tie and gave the Lady Warriors their first-ever state championship over the formidable Manasquan Warriors.
And on Feb. 15, with the Lady Warriors' 22-game undefeated regular season on the line and the team down 42-41 to the Long Island Lutheran Crusaders, Schenck took a cross-court pass from Diamond Miller and, with just one second left on the clock, sunk a three-pointer that sent her teammates into a frenzy and the Crusaders off the court wondering what had just happened.
The game was the last regular-season contest for the Lady Warriors, who finish with a 23-0 record.
Schenck said it was that last-second shot in 2017 that gave her the confidence to take the game-winner against the Crusaders.
The Crusaders had just taken a 42-41 lead on two successful foul shots, and there were about 12 seconds left in the game. After a time out to talk strategy, the Lady Warriors got the ball to senior Diamond Miller, who was fouled as she drove down the left side of the court with about 7 seconds left.
Senior Tiana Joy Jackson inbounded the ball to Miller, who again tried to drive down the left side. She was stopped by a handful of Crusader defenders, but as able to get a cross-court pass to Schenck with 1.1 seconds left.
"Coming out of the time out, I was like, all I have to do is get to my side and get to my corner, because I know where my shot is, and I was waiting in the corner like, OK Diamond, see me, Diamond, see me Diamond," Schenck said. "Because I'm ready for this, I'm going to make it, because I've been there before. Even though my shots weren't going in before, I know I always make the last-minute shots."
And make it she did.
"Did you see what she just did? She won the game for us," Miller said after the game. "That was a big shot. But I trusted her when I passed it to her. I knew it was good from the moment it left her hands. I'm just lucky to have players like her and her sister on my team, it was just amazing."
Schenck's game-winning shot capped a game that was a back-and-forth struggle all four quarters. The largest lead was six points, held for a short time by the Lady Warriors.
Miller started the scoring with a booming 3-pointer, which was answered by the Crusaders on their first possession.
The two teams battled through the first quarter, ending it with an 11-11 tie.
The Lady Warriors finished the second quarter with a one-point advantage, ending the half up 21-20.
The third quarter proved problematic for the Lady Warriors, who seemed to lose their focus.
Lady Warriors' coach Audrey Taylor said the team "got caught up with not making the right decisions, we were doing things too fast, not being patient. So I just thought we got a little lost."
"We usually get a lot of those deflections and steals and are aggressive, but I think because of the intimidation of who we were up against, I they kind of held themselves back a little bit," she said. "But once they turned that on, we were getting the fouls and we were making the plays and that was awesome."
Even with their problems, the Lady Warriors were only outscored by two points in the third quarter, ending it down 32-31.
The two teams wrestled the lead from each other during most of the fourth quarter, until the last several minutes.
Down by three with about a minute to go, freshman Chrsitina Midgette drove in for a layup and was fouled in the process. She missed the free-throw, leaving the Lady Warriors down by one, 40-39.
Keona Schenck tipped the Crusaders' inbound pass, then managed to toss it to Jackson near the top of the key before it went out of bounds. Jackson weaved between two defenders and hit the layup, putting the Lady Warriors up 41-40 with less than a minute left.
"That was an awesome play, a big move," Taylor said. "But for her as a senior to still have that mindset, to still stay focused, even though she wasn't having the strongest game, to come in there and drive and still be confident and finish, that was just awesome."
The Crusaders struck again on their next possession with the two free throws, which led to Kennady Schenck's game winner from downtown.
Miller led all scorers with 15 points, followed by Keona Schenck with 11. Jackson scored 8 points, Kennady Schenck put in six points – both three-pointers – and Midgette had four points.
Taylor was effusive about Schenk's shot.
"She has ice in her veins," Taylor said. "Who hits big shots like that all the time? We were talking at the time out about everybody just believing in themselves and being confident. And they did exactly that."
"It was nice that Diamond made a cross pass, and she caught it, it was a beautiful play, it was just a beautiful play, and it was an awesome shot," Taylor said.
"It was an amazing team win," Miller said. "We all laid it all on the court. All the mistakes we went through, we still pushed through and got the win at the end of the day."
Looking back on the regular season, Taylor said she knew the team was going to be good, but she did not expect to go undefeated.
"I knew we were going to be strong, I knew we were going to be good, with having returners and having maturity, and the transfers who came in that added some value," she said. "It was a matter of figuring out chemistry together, we were learning each other. This team, out of all the teams I've had, are probably the closest, and they treat each other like family, and I think that's what's helped us through the season. They're able to argue and bounce back and understand that we're going to argue sometimes, but it's not because I don't love you."
"This is what I would call a family," she said.
Here are some scenes from the game: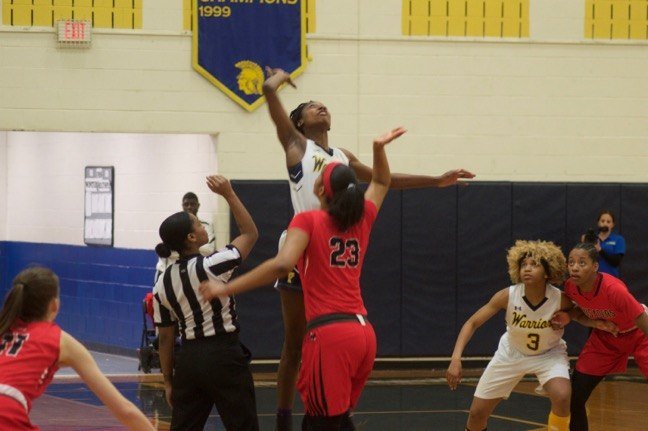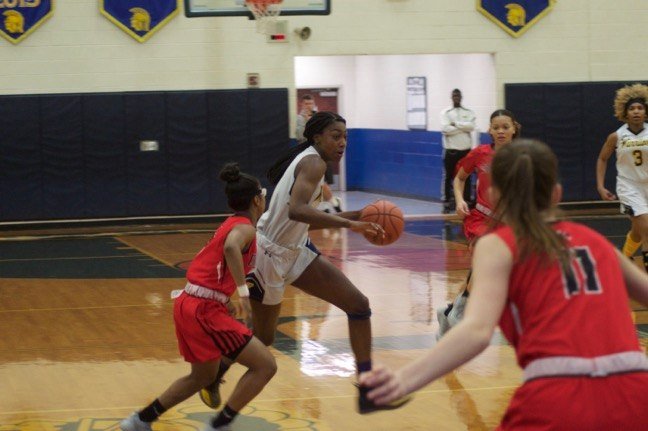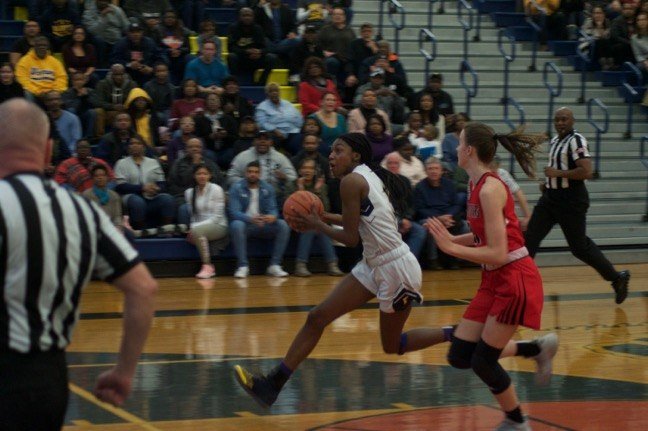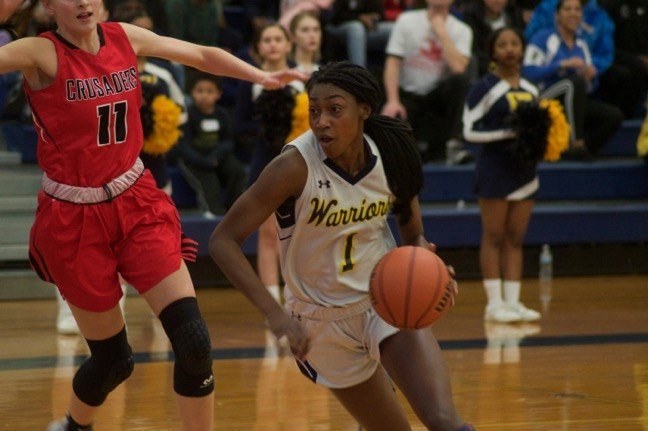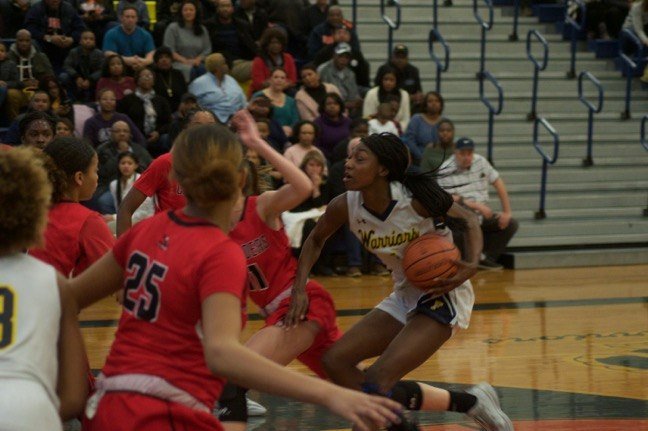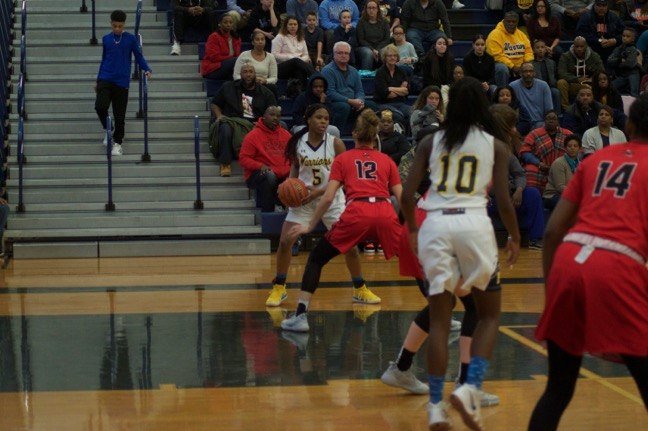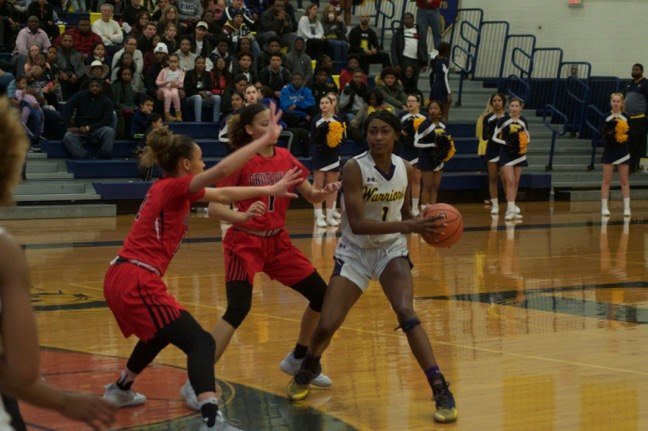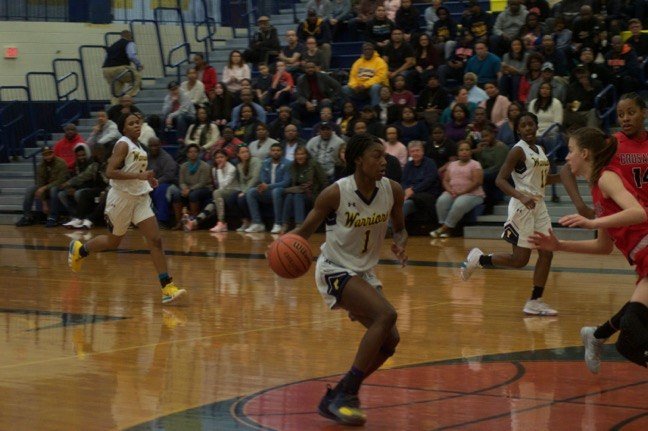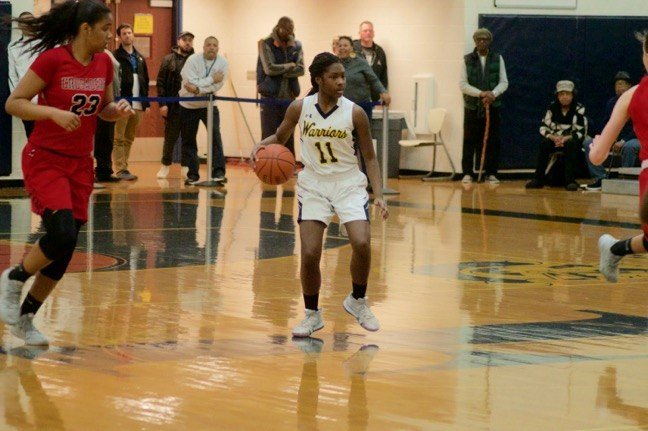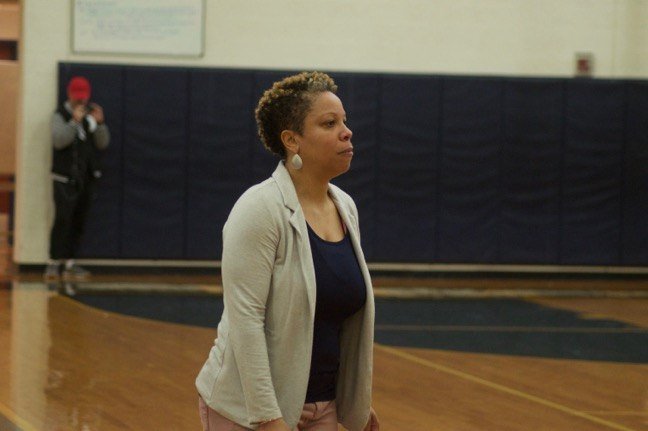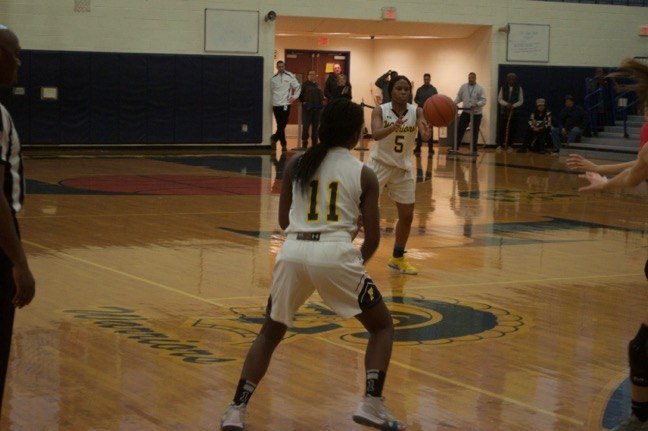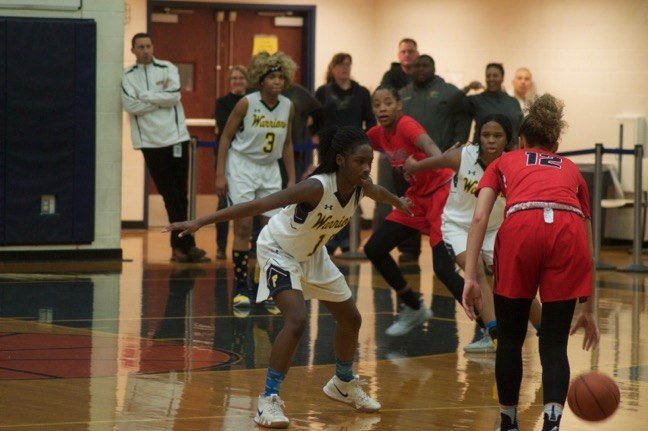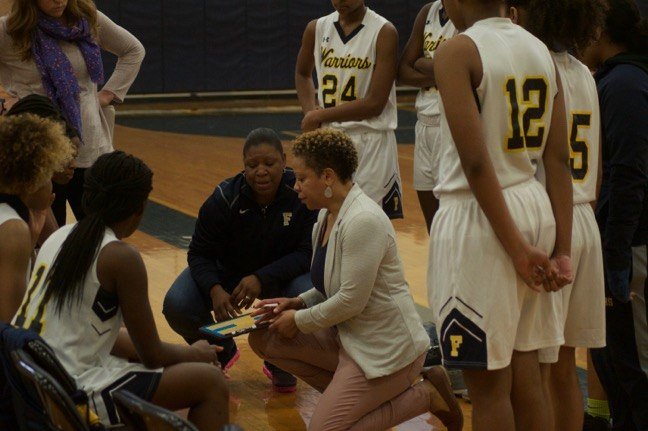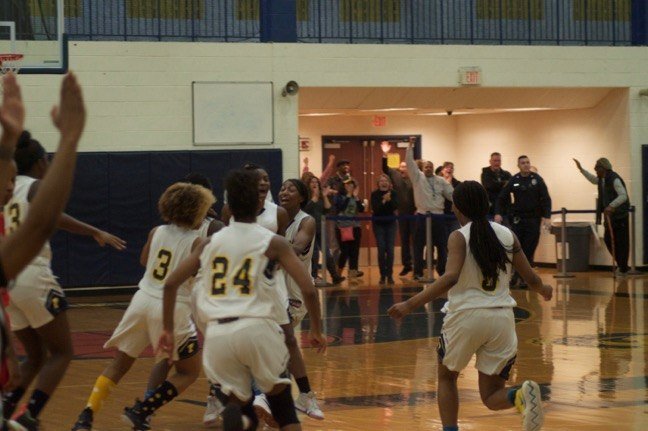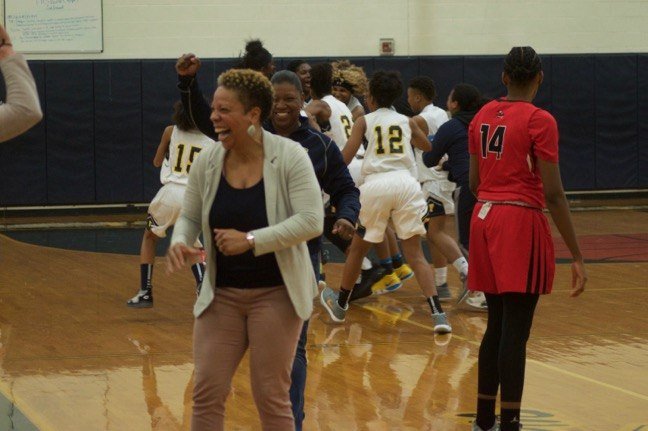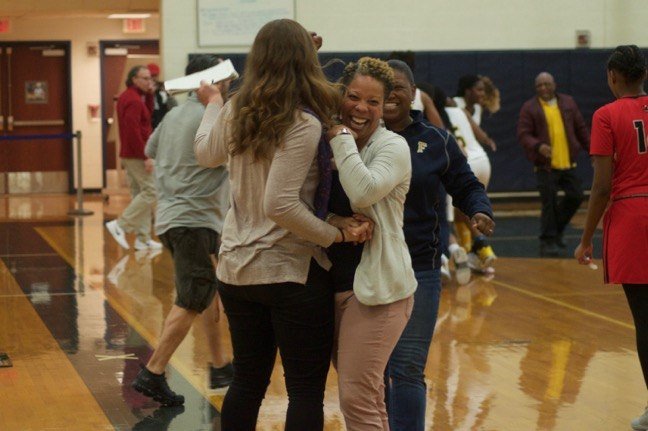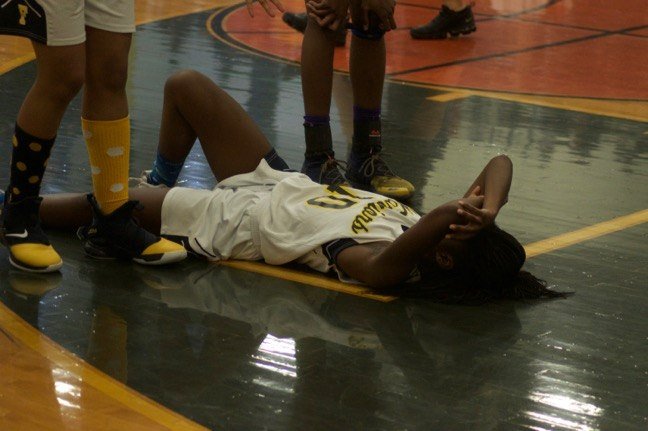 Your Thoughts
comments