Roller Hits For Cycle And Drives In 8 Runs In 12-3 Patriots Win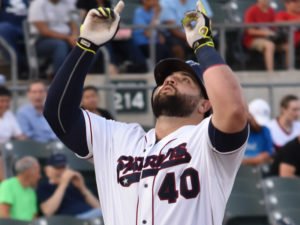 Bridgewater, NJ-   Kyle Roller hit for the cycle and drove in eight runs to lead the Somerset Patriots (41-25) over the Southern Maryland Blue Crabs (37-28) 12-3 at TD Bank Ballpark on Wednesday evening.
Roller went 5-for-5 with two home runs (6,7), in addition to a single, a double, and a triple to become the second Somerset Patriot to hit for the cycle in the team's 20-season history (Orlando Miller, 2002). The eight RBI also tied a team record for most RBI in a game (Ryan Radmanovich, Emiliano Escandon, Greg Blosser).
"I don't think I've ever been 5-for-5 in my life. It's a huge honor in itself," said Roller. "A lot of the credit goes to the guys in front of me getting on base to allow me to drive in the runs and put me in a good position to do the damage."
The Blue Crabs took an early 3-0 lead on an RBI double by Michael Snyder followed by a two-run home run by Cory Vaughn (6).
Somerset cut the lead in the bottom of the second inning on a solo home run by Roller.
The Patriots captured the lead with a three-run third inning. Greg Golson hit an RBI single and Roller put Somerset in front with a two-run double to left center field for a 4-3 lead.
Adam Donachie drove a bases loaded single to left field to plate two more runs for Somerset in the sixth inning.
Roller extended the lead with his second home run of the game, a two-run blast in the seventh inning, that made the score 8-3.
The Patriots added four runs in the bottom of the eighth inning, highlighted by Roller's three-run triple to complete the cycle.
"Once I got to second, I just said might as well keep going and see what happens. I saw it rattle around down there and thought I'd give it a shot," Roller remarked.
Rick Teasley (7-1) rebounded after a rough first inning to put zeroes across the board for the next six innings for the win. He allowed three earned runs on five hits and eight strikeouts. Brian Grening (6-2) took the loss, allowing six earned runs on nine hits in six innings pitched.
The 2017 Somerset Patriots Season presented by Ford will continue at home on Thursday, June 29th with a 7:05 pm game against the Southern Maryland Blue Crabs. The game includes Fireworks presented by Atlantic Health Systems. For tickets, visit www.somersetpatriots.com.
Your Thoughts
comments