Patriots Edge Blue Crabs 3-2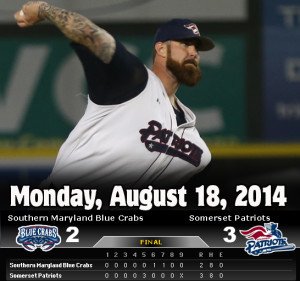 Bridgewater, NJ – The Somerset Patriots (23-16, 70-39) defeated the Southern Maryland Blue Crabs (20-19, 49-60) 3-2 Monday evening from TD Bank Ballpark. Jon Hunton set the single season Somerset Patriots saves record as he notched his 38th save of the year. The previous record was 37 saves established in 2013 by Hunton.
In the bottom of the fifth inning the Somerset Patriots plated three runs to take a 3-0 advantage. Second baseman Jeff Dominguez pounded a RBI double while first baseman Daryle Ward socked a RBI single.
The Blue Crabs received a RBI sacrifice fly from designated hitter Luke Murton to cut the deficit to 3-1 in the top of the sixth inning.
Third baseman Angel Chavez hit a RBI groundout in the top of the seventh inning to make the score 3-2.
David Purcey (3-0) earned the win striking out a season-high nine batters while tossing six innings of one run ball. Gaby Hernandez (4-9) endured the loss hurling seven innings while allowing three runs.
The 2014 Somerset Patriots season presented by Ford will continue tomorrow when the Patriots are home at TD Bank Ballpark for a 7:05 p.m. game against the Southern Maryland Blue Crabs. For tickets, call (908) 252-0700 or visit www.somersetpatriots.com.
Your Thoughts
comments