MacAfee Road School Holds 'Olympic Day Of Play'
---
Submitted by MacAfee Road School Staff.
MacAfee Road Elementary School enjoyed its first annual Olympic Day of Play inspiring students to bring the gift of play back into their lives in an effort to celebrate the winter Olympic Games. As youngsters growing up in a time of turmoil, the joy of play is essential to childhood growth. Raritan Valley Community College provided a dance ensemble performance which was amplified by Olympic stations modeled after some of the winter games. In addition, classroom games enhanced students' abilities to work together, communicate and understand the importance of the day.
Students used mats, ropes, carpet squares, scooters, and an array of movements all seeking to show students the levels of activity they can achieve and simultaneously ensure their feelings of being in control and feeling safe. Movements through stations monitored and ensured success for all participating students. Beanbags and targets stressed coordination skills while jumping and running provided speed control and spring boarding like a long jump on skis might resemble. Basketball and dribbling skills were also practiced. The final degree of fun came at the finale as some students ran with the torch in a relay imitating the real Olympic actions. Naturally, staff and Mr. Grippo partook in the event to guarantee total participation. Administrators on hand were also involved as many of the pictures show complete immersion of all in attendance. A healthy competition and team efforts in relays showed our students the enjoyment of working together to achieve a common goal and putting forth their best efforts.
It was noted that the students thoroughly enjoyed their special day and that its purpose has made a lasting impression on them. This Global Day of Play Movement made a difference for our students in a positive way. Staff to be thanked include: Laura Franzi, Marisa Saucedo, and Alyson Samarel.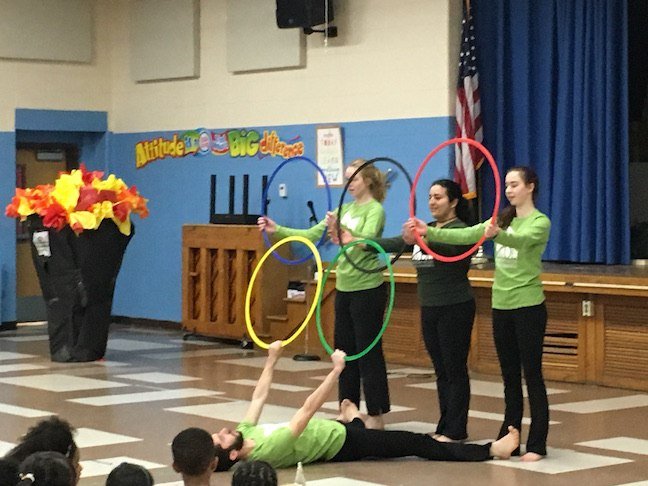 Your Thoughts
comments