MacAfee Road School Celebrates Flag Day With Songs, Bagpipes And Lots Of Flags
MacAfee Road School students held their annual Flag Day ceremony June 14, but this year there was a new element added: a bagpipes and drum duo.
The duo was brought by the Franklin Township Police Department, whose Honor Guard helped raise the flag at the ceremony's start.
Principal Bill Grippo had a surprise of his own, his son, retired Naval Commander Dan Grippo, who told the crowd that he was sworn into the military on Flag Day 27 years ago.
"It's been an honor to be here," the younger Grippo said. "I've done a lot of great things in my life, but the most proud thing I am is a product of Franklin Township and the wonderful school system here."
Also speaking were schools Superintendent John Ravally, FTPD Chief Richard Grammar, FTPD Capt. Greg Borlan and Dan Bocchino, co-president of the MacAfee Road School PTO.
"I just want to congratulate all the young boys and girls, all the teachers and everyone who helped to put this program together," Ravally said. "It's just a magnificent day, a magnificent program, we're so proud of all of you."
"What a beautiful day to celebrate Flag Day, to celebrate the symbol of our great nation," Grammar said. "I've always had a special place in my heart for MacAfee Road School because both of my sons attended here. We love being a part of this celebration every year."
"We keep Flag Day in our mind because it represents our way of life and the men and women who have sacrificed so we can live the great lives we live here in Franklin Township," Borlan said.
Bocchino presented donations from the PTO to the FTPD and the East Franklin Fire Department's Kevin Appuzio Fund.
The school's Pre-K and Kindergarten students sang "My Country 'Tis of Thee," the 1st Graders sang, "You're A Grand Old Flag," the 2nd Graders sang, "America the Beautiful," the 3rd Graders sang, "This Land Is Your Land," the 4th Graders sang, "Our Flag, The Red, White And Blue" and all the students sang, "God Bless America."
The event was planned by MacAfee teacher Sue Lenczewski, who Grippo said has been doing so for 21 years.
The Franklin Reporter & Advocate live-streamed the event:
Here are a few scenes from the observance: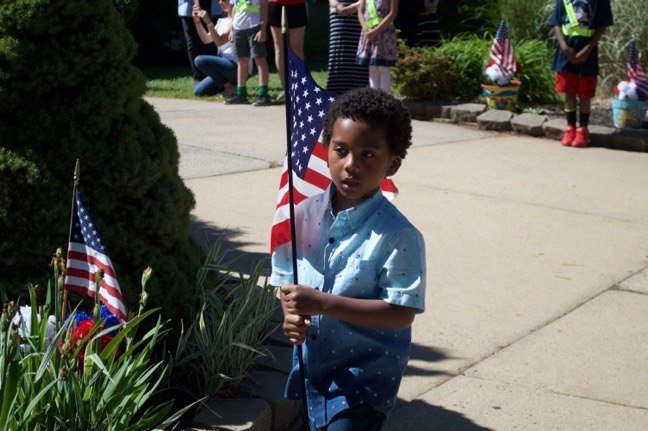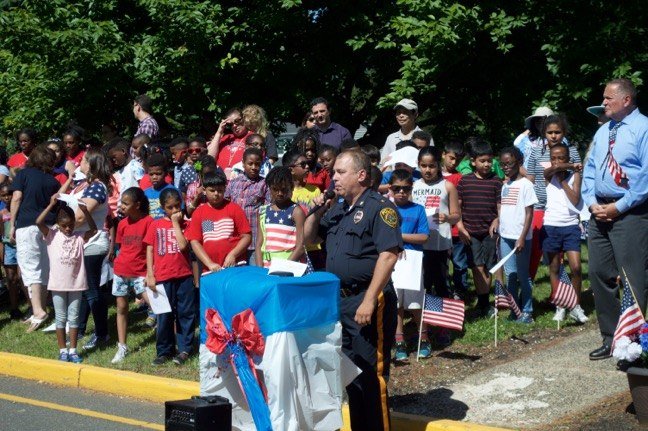 Your Thoughts
comments