Life Story: Wilfredo 'Pete' Martinez, 43; Former Somerset Resident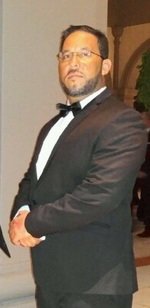 Wilfredo "Pete" Martinez, 43, passed away on Nov. 15 in New Brunswick.
Mr. Martinez was born July 17, 1974 in Jersey City, the son of Wilfredo and Martha Martinez. He grew up in Somerset, living there for most of his life. He relocated to Orlando, Florida, where he resided for the past six years.
Pete attended Franklin Township High school and Hoboken High School. He also attended DeVry College of New York and Lincoln Technical Institute, where he earned a degree in electrical engineering. He was a subcontractor for Marson Corp. as an electrician.
Pete loved sports, especially football and wrestling. He also loved reading, swimming, fishing and hunting. Wilfredo's true passion was animals, especially dogs.
Mr. Martinez was preceded in death by his father, Wilfredo Martinez.
He is survived by his mother, Martha Martinez; his companion, Mirna Sanchez; his son, Alex Martinez; his daughter, Solana Martinez; his brothers, Luis Martinez and Rashond Smith; his sisters, Brenda Martinez, Abigail Figueroa and Vivi Martinez and a host of nieces, nephews, cousins and friends.
Family and friends may visit at Gleason Funeral Home, 1360 Hamilton St. from 5-9 p.m. Nov. 20.
In lieu of flowers, please consider donations to the Franklin Township Animal Shelter, 475 DeMott Lane, Somerset, NJ 08873.
Your Thoughts
comments