Life Story: Margaret Oreka, 92; Past President Of East Franklin VFC Women's Auxiliary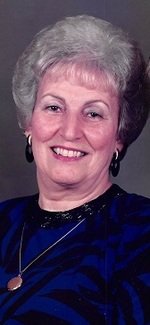 Margaret (Mazza) Oreka passed away on February 15, at her residence in Monroe. She was 92 years old.
Marge was born in Anita, PA and lived there before moving to the New Brunswick area with her parents and family when she was fourteen.
She later lived in Franklin Township where she and her husband, Anthony, raised their two daughters, Margie and Donna. After his passing, Marge moved to the North Brunswick senior housing center prior to moving to the Chelsea at Forsgate in Monroe in 2016.
Marge was a long-time parishioner of St. Mary of Mount Virgin Church in New Brunswick. She was a member and past president of the East Franklin Volunteer Fire Company Women's Auxiliary and a member of the Franklin Township and North Brunswick Senior Citizens groups. A good game of cards, a vacation with her husband and their closest friends and spending time with family were among her many favorite pastimes. She was an excellent cook and the keeper of family recipes.
Marge was pre-deceased by her husband of 47 years, Anthony Oreka, and her Mazza family siblings: four brothers and five sisters.
She is survived by her daughters, Margie and her husband Dennis DeBow of Dayton, and Donna and her husband Donald Jakubowski of Parsippany.
She is also survived by her four grandchildren Justin DeBow, Megan DeBow Hawthorne, Kelly DeBow Apel and Hannah Jakubowski. Marge is also survived by five great-grandchildren, Violet, Ruby, Quinn, Griffin and Cazrick.
Visiting will be held from 3-6 p.m. February 18 at the Gleason Funeral Home 1360 Hamilton Street in Somerset. Funeral services will begin at 9:15 a.m. February 19 at the funeral home, followed by a 10 a.m. funeral mass at St. Mary of Mount Virgin Church on Remsen Avenue in New Brunswick. Entombment will follow at Franklin Memorial Park in North Brunswick.
Marge had a cockatiel for 14 years which was placed with a bird rescue sanctuary. In lieu of flowers, donations can be made to For The Love of Birds at https://ftlob.rescuegroups.org/info/donate.
Your Thoughts
comments