Life Story: Luigi Mendola, 94; Professional Tailor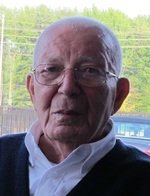 Luigi Mendola passed away June 12 at his home in Somerset at the age of 94.
Mr. Mendola was born in Naro, Sicily, Italy and came to the United States with his wife, Antoinette in 1965. He lived in New Brunswick before moving to Somerset 46 years ago. He was a parishioner of St. Mary of Mount Virgin Church in New Brunswick.
Mr. Mendola was a professional tailor for the Heman Shop which was in East Brunswick. He also used his craft to provide custom garments to many friends and family. He was a tremendously hard worker and always put his family first. He enjoyed the occasional trip to Atlantic City and stayed active by walking daily.
He was predeceased by his 11 siblings all in Sicily. He is survived by his wife of 53 years Antoniette of Somerset and their children Nick Mendola of Lawrenceville, Rita Gallagher and her husband Patrick of East Brunswick and Anthony Mendola of Somerset. He is also survived by his two grandchildren Maria and Connor Gallagher.
Services will begin 10 a.m. June 15 at the Gleason Funeral Home, 1360 Hamilton St., followed by a 10:30 a.m. funeral mass at St. Mary of Mount Virgin Church on Remsen Avenue in New Brunswick. Entombment will follow at Franklin Memorial Park in North Brunswick.
Friends and family may visit from 9-10 a.m. at the funeral home on June 15.
Please consider a contribution in Mr. Mendola's name to American Lung Association at www.lung.org.
Your Thoughts
comments