Life Story: Catherine 'Martha' Madama, 71; Longtime Administrative Secretary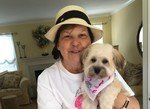 Catherine "Martha" Madama, 71, passed away peacefully on Saturday, February 9th, 2019 at St. Peters University Hospital in New Brunswick.
Ms. Madama was born in Manhattan, NY on September 26th, 1947 to the late William and Crise (Apostolakis) Gahagan. Martha has resided in Somerset for the past 14 years.
Martha was an administrative secretary for 10 years at Milltown Board of Education until her retirement. She also worked in New Brunswick for various law firms. Martha had a deep love for animals, especially her "fur nephew" Cody. He provided an abundance of comfort and peace with her strong fight against cancer.
Ms. Madama was predeceased by her loving husband in 1996, Robert "Bob" Madama and her brother, Michael Gahagan.
Martha is survived by her many loving cousins, beautiful godchildren and wonderful friends.
Family and friends may visit on Wednesday, February, 13th from 4:00 P.M. to 8:00 P.M. at the Gleason Funeral Home, 1360 Hamilton Street, Somerset, NJ 08873.
Funeral services will begin at 10:00 A.M. on Thursday, February 14th at the funeral home. A Mass of Christian Burial will begin at 10:30 A.M. at St. Matthias Church in Somerset. Entombment will follow at St. Peter Cemetery in New Brunswick.
In lieu of flowers, donations in Martha's name can be made to a pet rescue of your choosing or at Poor Paws Rescue, please contact us at poorpawsrescue@gmail.com.
Your Thoughts
comments