Life Story: Ann Bernstein, 97; 12-Year Somerset Resident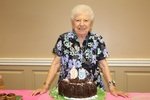 Mrs. Ann Bernstein, 97 years old, passed away on Saturday April 27, 2019.
Mrs. Bernstein was born in Newark, New Jersey and raised her family in Irvington before moving to Cranford and Toms River. She relocated to Somerset in 2007.
She worked for many years in an administrative capacity for the NJ State Commission of the Blind in Newark. Her family was the center of her life. She was an excellent cook and had no appetite for a meal prepared by someone who wasn't. She was glad to take someone under her wing and teach them her recipes for great stuffed cabbage and other dishes. She volunteered in many capacities throughout her life, recently continuing to knit blankets and such for hospice patients. Known to many as "Mama Ann", her love for life will be celebrated by many.
She was pre-deceased by her husband of 42 years, William (Bill), daughter Eileen Nessel, her siblings Phillip Kopp and Rose Rosenfeld, and grandsons Jason and Matthew.
Mrs. Bernstein is survived by her daughters Sharon Megdal and her husband Ronald of Tucson, Arizona and Debbie Golden and her husband Paul of Somerset. She is also survived by her grandchildren Lee and her husband Brandon, Stephanie and her husband Stephen, Bryce, and Brian, and her two great-grandchildren Ella and Hannah.
Please consider a contribution in Mrs. Bernstein's name to the Benjamin Butler Camp Scholarship Fund at The Shimon and Sara Birnbaum Jewish Community Center, 775 Talamini Road Bridgewater, NJ 08807.
Your Thoughts
comments