Lady Warriors Fall To Manasquan In Tournament Of Champions Final, 72-60
---
On paper, things happened the way conventional wisdom would dictate: the top-ranked team beat the No. 4 team in a state championship game.
But in the minds of the Warrior Nation faithful who trekked to Trenton on March 18 to cheer on their team, what was on paper didn't matter, because they knew what was in the hearts of the 11 young women wearing the blue and gold.
And while they may not have a Tournament of Champions first place trophy, the Franklin High School Lady Warriors basketball team certainly has heart. They showed it in games against Watchung Hills Regional and St. Rose, and they showed it against Manasquan.
In their second trip to high school basketball Nirvana in two years, the Lady Warriors fell to the Manasquan Warriors, 72-60 before enthusiastic fans on both sides of the court at Cure Insurance Arena in Trenton.
But the final score does not give a true indication of the game, a game in which Manasquan was seeking revenge for the buzzer-beater loss to Franklin they suffered last year.
During the course of the game, during which Franklin never held a lead, the Lady Warriors were down by as many as 17 points.
But as they have done in the past – including against Manasquan – the Lady Warriors fought back, and came within one point twice in the fourth quarter: the first time off a fast-break bucket by Kennady Schenck with 3:18 left in the game, and the second time after Tiana Jackson sank two free throws with 1:21 left to play.
But both times, Manasquan found a way to rebuild its lead. With 1:16 left in the game, Manasquan went on an 11-0 run that sealed Franklin's fate.
Manasquan was first to score, on a shot in the paint by Faith Masonius. That was quickly answered by a bucket on the other side of the court by Jackson to even the score.
The teams traded nine missed shots between them before Keona Schenck fouled Manasquan's Dara Mabry, who then converted one of her two foul shots.
Two converted foul shots by Mabrey after a Diamond Miller foul put Manasquan up 5-2, but three-pointer by Keona Schenck even the score for the second time,
Manasquan took another two-point lead after a field goal by Masonius, and the Lady Warriors answered with a bucket by Miller to toe teh score for the third time with 2:38 left in the first quarter.
Scores by Manasquan's Lola Mullaney and Masonius gave the Warriors an 11-7 lead, but that quickly evaporated with two buckets by Jackson, the last coming with 1:04 left in the first quarter.
Mullaney finished the scoring for the frame with a three-pointer with 38 seconds left, giving Manasquan a 14-11 lead at the buzzer.
The Lady Warriors's train to repeating a TOC championship went off the rails in the second quarter, when Manasquan outscored them 18-9, to take a 32-20 lead into the locker room at halftime.
With the score 17-16 with 5:06 left in the quarter, Manasquan went on an 11-0 run, driving the score to 28-16, before Miller scored on a fast break with 1:06 left in the half.
The teams traded baskets for the final minute of play, and Manasquan left with their sizeable lead.
Franklin shot 30 percent from the floor in the first half, compared to Manasquan's 40 percent. The lady Warriors hit on 17 percent of their three-point attempts, while Manasquan again recorded 40 percent of theirs.
Franklin slightly outscored Manasquan in the third quarter, 18-17, thanks to several 6- and 4-point runs. Manasquan ran up its largest lead of the game, 17 points, but the Lady Warriors were able to chip away at that, knocking it down to as few as nine points (43-34) aftr a three-pointer by Kennady Schenck with 56 seconds left in the quarter.
The back-and-forh set up the drama in the fourth quarter, which the teams entered with Manasquan up 49-38.
Miller opened up the final frame with a drive to the basket that brought Mansquan's lead down to nine points, followed by a bucket by Camille Gray, bringing the score to 49-42.
The teams traded baskets for about the next four minutes, with Manasquan's lead varying from eight, seven and six points, until Jackson hit from the paint to bring the Warriors withing three points with 3:38 left in the game, followed by a layup by Kennady Schenck to bring teh Lady Warriors within one point with 3:18 left to play.
Manasquan was able to bring its lead back to six points with 2:03 left after two buckets by Mabrey, but Franklin once again came within one point (61-60) – with 1:21 left to play – on the strength of a three-pointer by Kennady Schenck and two free throws by Jackson.
Manasquan then closed out the game with an 11-0 run, punctuated by Mabrey blocking Miller's attempt at a three-pointer.
Franklin's shooting picked up in the second half, with the team hitting 54 percent of their field goals, ending the game hitting 42 percent of their field goal attempts.
The Lady Warriors were just as cold outside the arc in the second half, converting only 27 percent of their attempts, finishing by hitting 22 percent of their three-point attempts.
Miller led all Franklin scorers with 20 points. (Manasquan's Mabrey led all scorers with 30 points.) Jackson contributed 14 points; Kennady Schenck had 11 points; Gray, in her last high school game, scored 10 points; Keona Schenck had three points and Kiersten McCloud, also playing her final high school game, had two points.
In the post-game press conference, Lady Warriors' coach Audrey Taylor reflected on the team's season, a season that was considered over in December with a losing record.
"The girls found ways to keep together and fight through every last battle we've been up against," she said. "And honestly, all I can really just say is that I'm very proud of not only them, but what our coaching staff was able to do and the other girls who fought through this season as well. I'm very, very proud of the kids."
Taylor said that  her message to the team when they were facing a double-digit deficit was, "dig in."
"It was time to dig in and be us and stop worrying what these refs were going to call as far as a foul, and they started to relax, we were able to get some turnovers, create some momentum for us," she said. "It's about fighting. We've been fighting all year.We weren't going to go out not fighting today."
Miller, understandably subdued, hinted that the team would not rest.
"We still have something to prove," she said.
The season "didn't end how we wanted it to, but overall we had a great season," Miller said. "We had our ups and downs. It's not over for me, it's just a minor setback."
That last thought was echoed by Taylor.
"It was always a goal as a top program to make it here for the second year, you wouldn't want anything less next year," she said. "I think the expectation is to come in and try to build the way we built this year.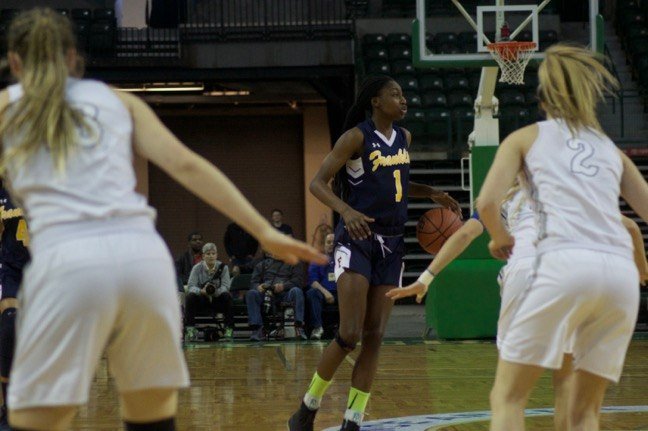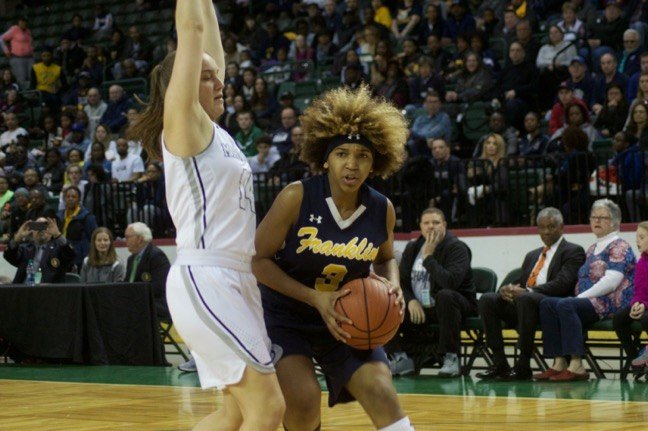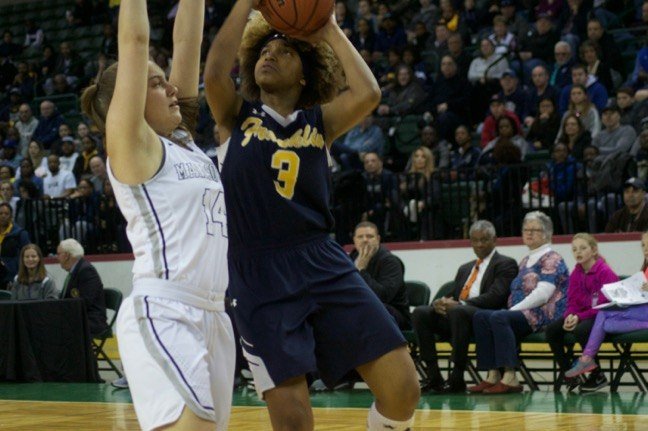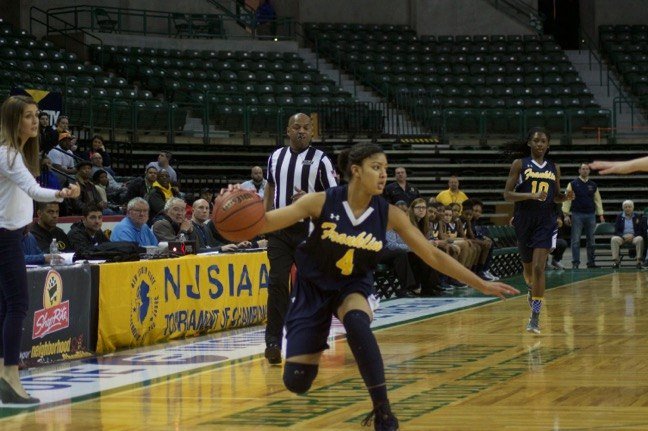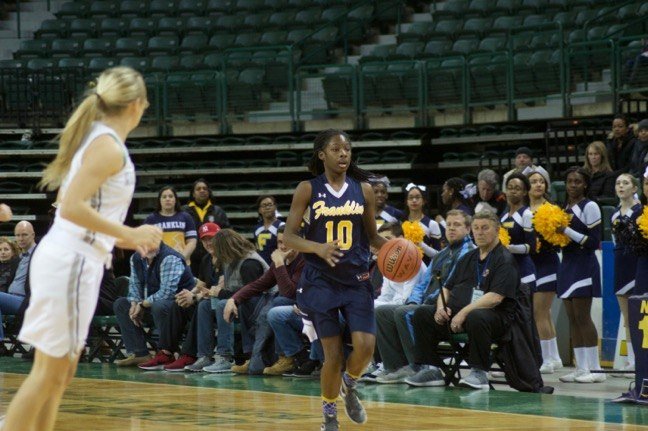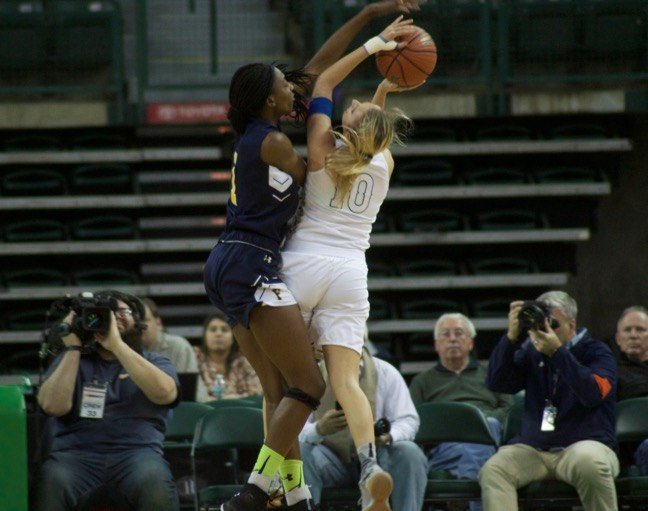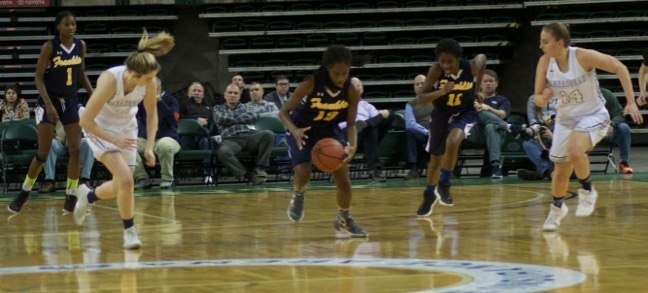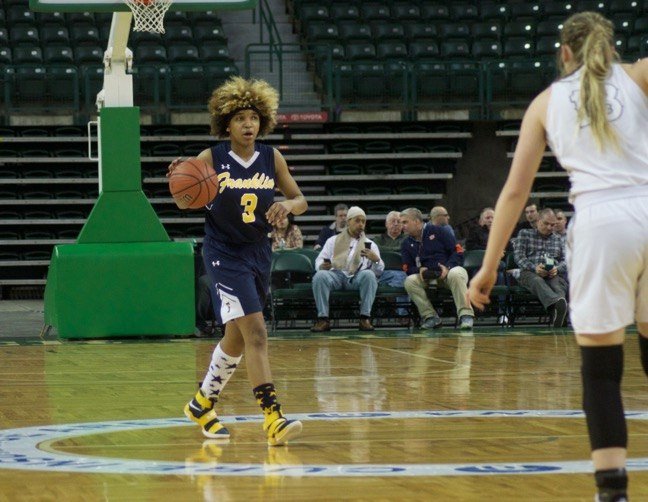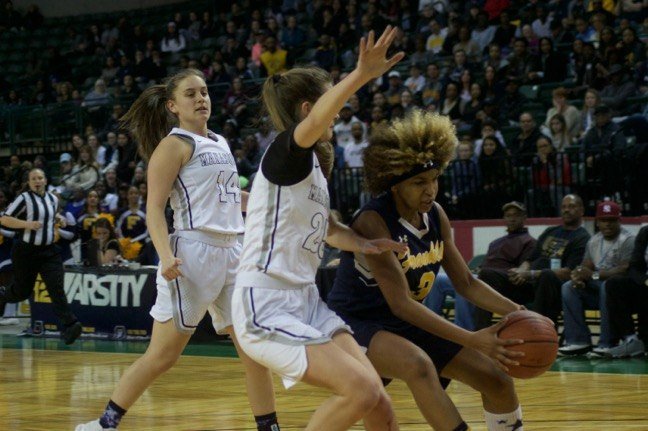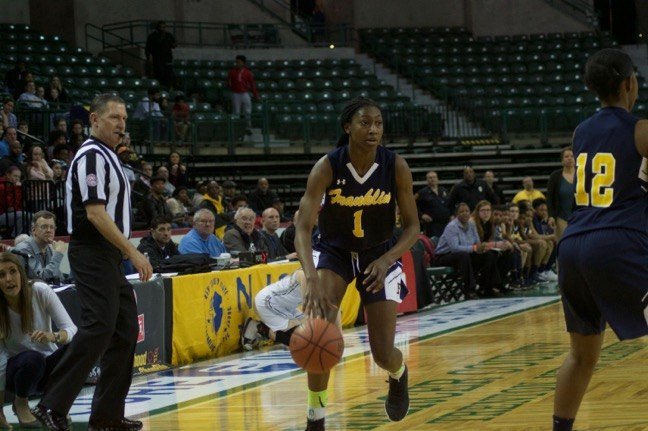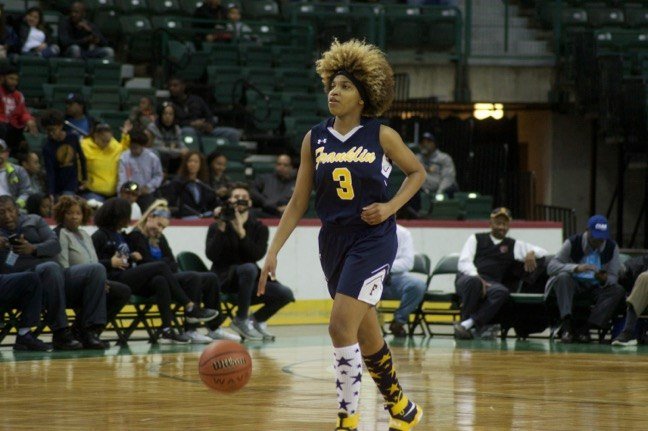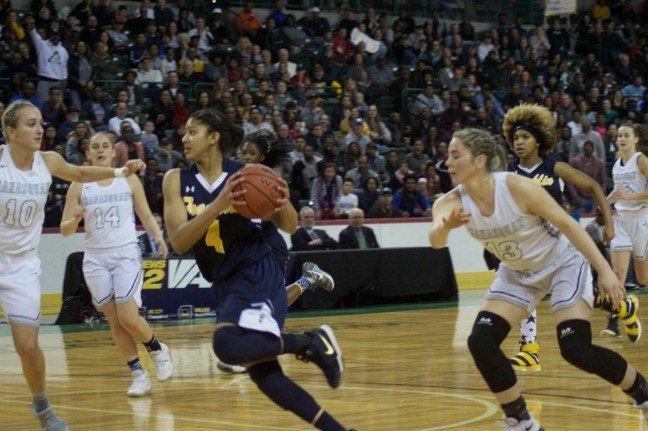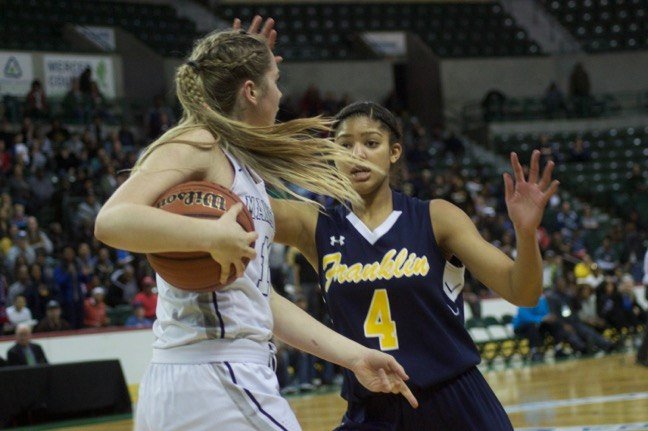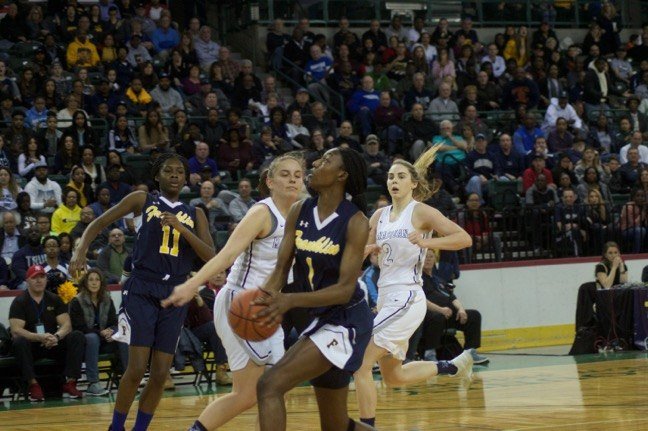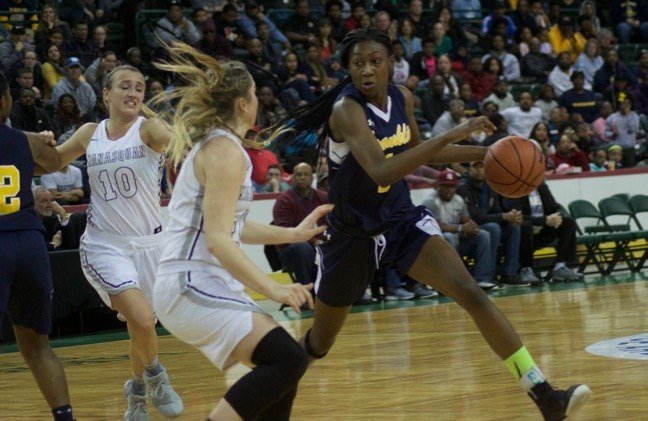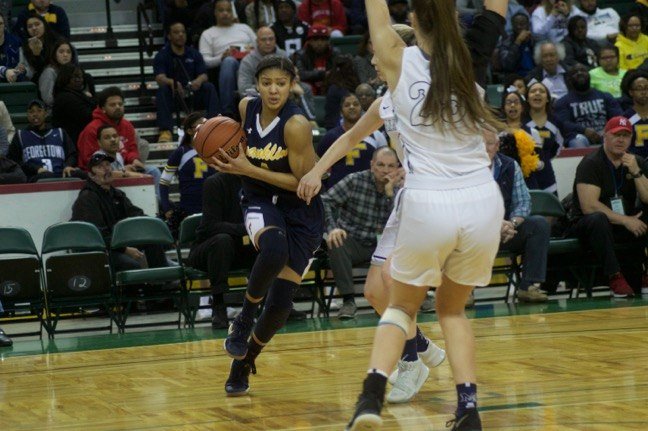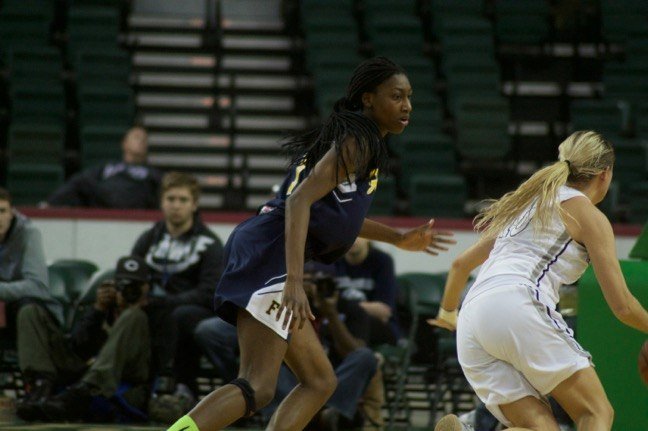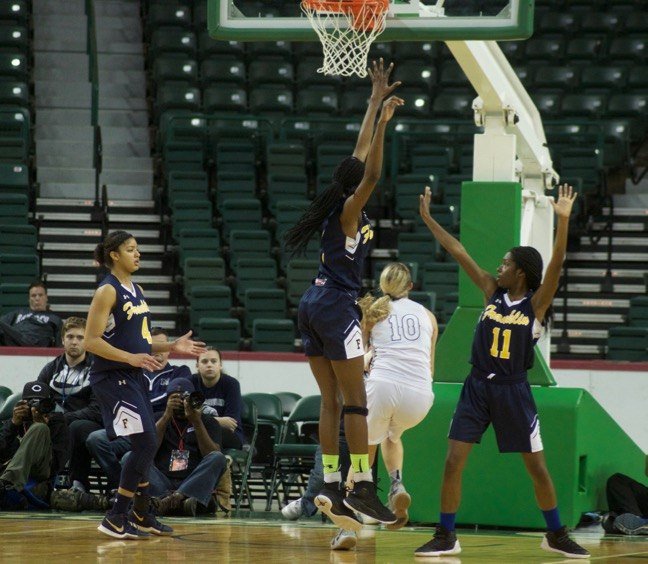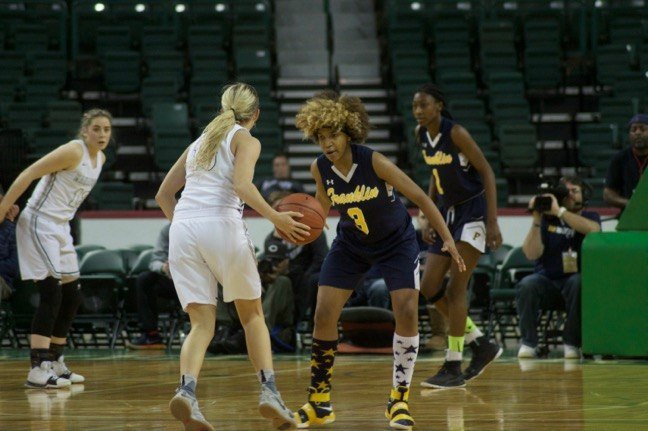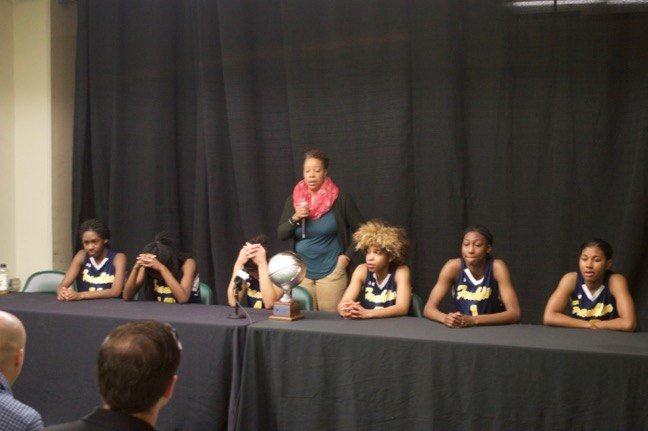 Your Thoughts
comments