It's Official: Diamond Miller Signs To Play Basketball For University Of Maryland
---
A process that began when she was in the 8th Grade ended Nov. 14 as Franklin High School basketball standout Diamond Miller formally committed to play for the University of Maryland.
Miller signed her Letter of Intent to play for the Division 1 team surrounded by friends and family in an FHS second-floor classroom.
The all-time leading scorer in the school's basketball program (boys and girls), Miller has a handful of regional and divisional championships under her belt, including the 2016-17 state Tournament of Champions championship. She was also a member of the gold medal-winning Under-16 US National Team that competed in Buenos Aires, Argentina in 2017.
"This is amazing right now," Miller said after signing the letter. "It's the best of both worlds, I'm able to go to the school that I truly love, and I'm really excited for the future."
Miller said she "had no idea" that she would accomplish so much playing basketball.
"I was just this little girl who was trying to play this sport that I loved," she said. "Turns out that I'm really good so I can play for a college that I really love, too."
Diamond's mother, Dreana, said she had no doubt that her daughter would be a success. She has said that Diamond has been courted by colleges since the 8th Grade.
"I knew it," she said. "She's the middle child Everything her older sister did, she's going to try to surpass, and she has. Grades, everything, she's always been a competitor."
Diamond Miller proved that out when she broke the all-time scoring record as a junior, a record set several years earlier by her sister, Adriana.
Miller's father, Lance – a Villanova Hall of Fame basketball player – called the day "awesome."
"You see how happy she is, that makes me happy," he said. "She put the work in, this is just another step in what she wants to do. I think for her, the pressure is off, that's why she verballed early, she's signing today, now she'll go to the next step and keep getting better and better."
Diamond Miller made a verbal commitment to play for Maryland in March; she was barred from formally signing until she was a senior. Miller's final choice was between Maryland and Notre Dame.
Miller, a 6″2′ guard, averaged about 24 points per game last season. She's known for her shotmaking ability from the three-point zone, as well as finding teammates to feed.
Ken Margolin, the FHS athletic director, said Diamond – and her older sister – playing for Franklin "has been a blessing."
"I've been in the district for 18 years, and the success this program has achieved is unparalleled," he said. "We've had some programs that have excelled and some that haven't, but it's a lot more fun when you're achieving on and even off the basketball court."
"Diamond has been a huge part of that," Margolin said. "I've gotten to know her over the three years that she's been here so far, and she's an amazing basketball player, but I'm very proud to say that she's truly a beautiful human being as well. That's what's going to carry her throughout the course of her life, it's not just that she's a basketball player."
"It takes a team, it takes a coaching staff, it takes the support of a lot of people, but at the end of the day you do also need the talent," he said. "We have a very talented team, we have a very talented young lady here."
"We're blessed enough to have one more year with her, and I think coach and the ladies have set very high standards for this year, and I think now, after she's signs, she can just breathe a little sigh of relief and just enjoy the hard work and fun," Margolin said.
FHS girls' basketball head coach Audrey Taylor said she was excited about Diamond playing for her even before she was in high school.
"I saw her in the 8th Grade, I was amazed at what she was able to accomplish as an 8th Grader," Taylor said. "I was excited to get my hands on her because I didn't know what she would be able to accomplish and do once she got here.  But once she got here, the one thing I can tell you about Diamond is that this kid is true to the game."
"She loves it, eats, breathes, sleeps this game," she said. "Everything she's accomplished, she's earned. So I'm very proud of her, the team is very proud of her.:
"This year, though, she's got some work to do, the job is not over," Taylor said. "So we're signing to go to Maryland, but we've still got work to do in Franklin."
School principal Frank Chmiel, known as a fervent supporter of FHS athletics, thanked Miller for staying in Franklin for her high school career.
"I want to thank you, in that you could have gone to other schools, but you chose to stay in your home town," he said. "We're putting private schools out of business, they're the Evil Empire."
"You're going to have our full support, you're our heroes," he said. "I'm just so proud of you, Diamond, and what you've accomplished, and the entire girl's basketball team. I was at those games with you, I get crazy with you. I want to storm the court with you, and let's get a number one in the state again."
Once at Maryland, Miller will team up with a player who is now an opponent, Manasquan's Faith Masonius, who also verbally committed to play for Maryland.
Here are some scenes from the signing ceremony: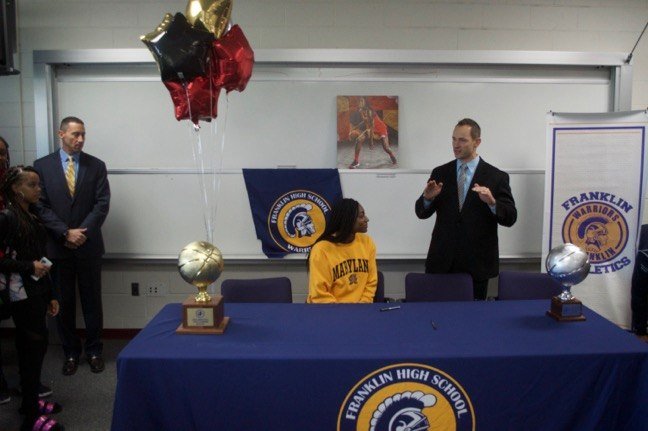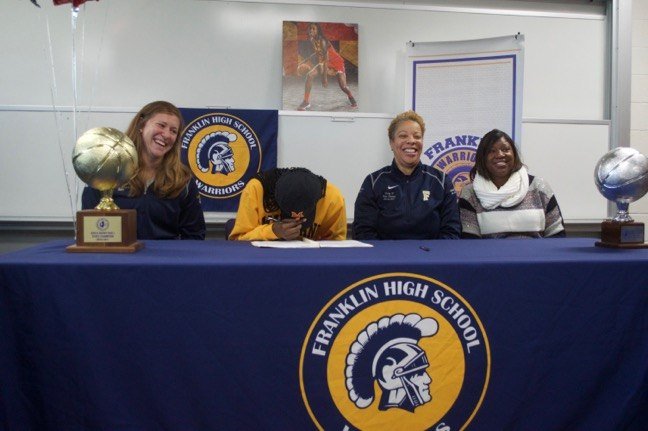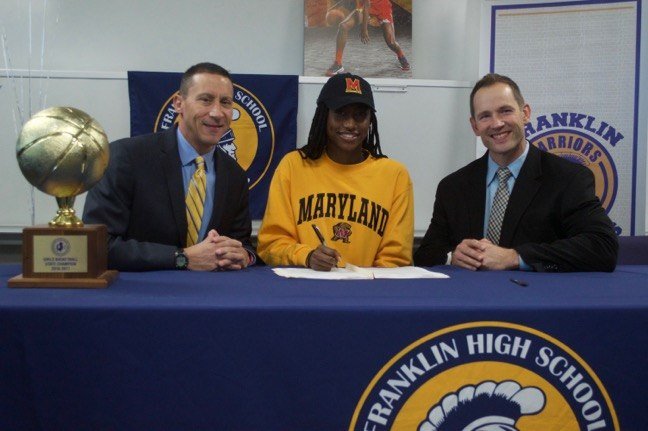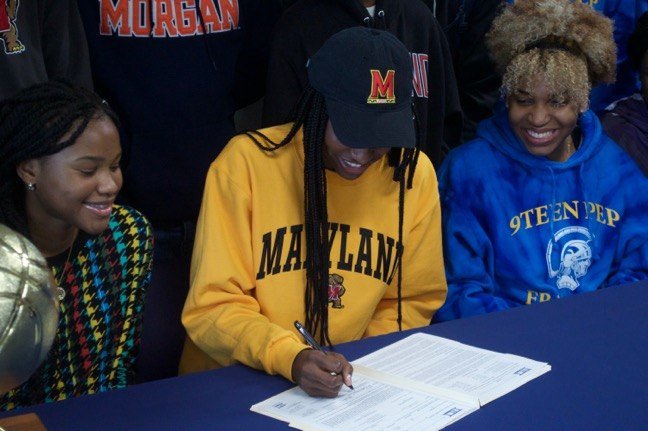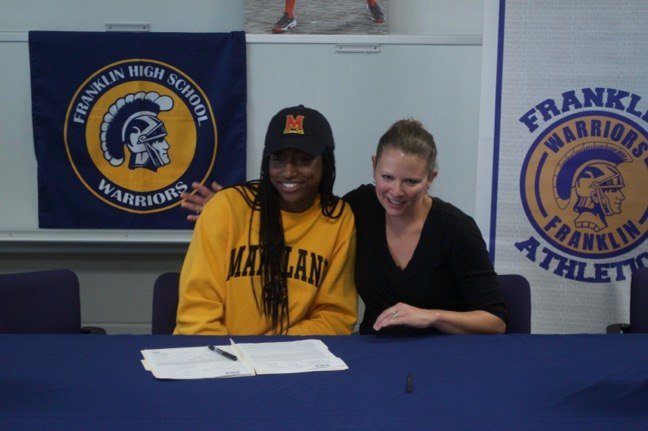 Your Thoughts
comments