Grandparents Celebrated By Cedar Hill Prep Kindergarteners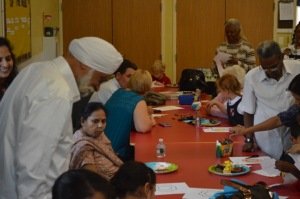 Kindergarteners at Cedar Hill Preparatory School on Cedar Grove Lane celebrated their grandparents Sept. 30 with songs, poems and food.
The annual "Grandparents' Day" is held at the end of September to "show the grandparents how much we love and respect them," said Ruth Sulitzer, a Kindergarten teacher and the school's admissions director.
After singing two songs and reciting some poems, the students joined their grandparents – or their grandparents' stand-ins – for snacks and making flowers.
The paper flowers are colored and the students' names are written on them, after which they are applied to a "Kindergarten Family Tree" on a wall in the school. The flowers stay there throughout the school year, Sulitzer said.
"We say that our grandparents are our heritage and we learn so much from them and we appreciate them," she said. "This is the day we show our appreciation."
Also participating in the day's events were Kindergarten teachers Pranali Parab, Kim Schafer and Brenda Stoll.
Grandparents' Day 2014 at Cedar Hill Prep School
Your Thoughts
comments